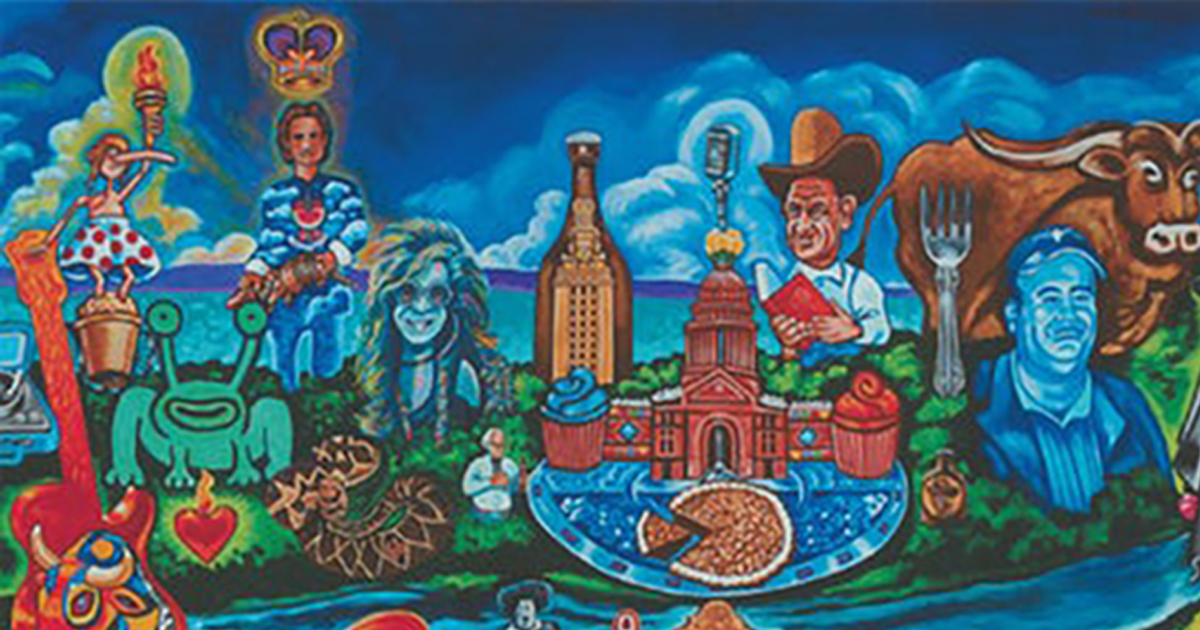 In Austin, the funky slacker paradise turned buzzy big city, nothing is quite as certain as cedar fever, the line at Franklin Barbecue, a daily arrival of newbies—and relative old-timers who stand ready to reminisce about the city's good old days.
Joe Nick Patoski calls it the "You should have been here two years ago" effect.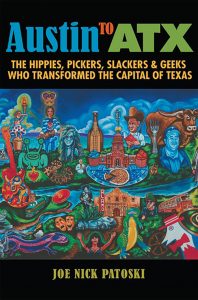 Patoski relocated from his native Fort Worth to the capital city a year after Willie Nelson decamped from Nashville in 1972. A writer, historian, documentary director, radio show host, and frequent contributor to Texas Highways, Patoski has been chronicling Austin's transformation almost ever since. His latest book—Austin to ATX: The Hippies, Pickers, Slackers, and Geeks Who Transformed the Capital of Texas, out Jan. 22—explores Austin's wild ride over the past four decades.
Why should folks who aren't hippies or geeks want to read Austin to ATX?
This book is aimed at anyone interested in Austin and wondering what makes it so different from other places. It's for old-timers who remember $2 cover charges at the Continental to hear Stevie Vaughan, $2 beer pitchers, and $75-a-month rent houses. It's for new arrivals curious about what was here before they were. It's for people who've never been to Austin but have heard about it. It's for all the complainers in Houston and Dallas who still can't figure out why Austin is not like their place.
The stories told explain why Austin is the forward-thinking 21st century city it is, and who the folks were that made it that way.
You've divided the book into chapters on music, film, tech, and other big Austin scenes. Which one was the most influential in the city's transformation from a slacker past to the hipster present?
Each chapter of the book is its own standalone history. All of them inform how Austin became the city it is today. For me, the element that first separated Austin from other cities in the region was music. Musicians started the in-migration to Austin in the early '70s, reversing the historic out-migration to New York, Los Angeles, Nashville, and San Francisco for local people with talent and creativity. Music was the foundation, established by places like the Armadillo World Headquarters, Soap Creek Saloon, and Antone's, and literally hundreds of small clubs. Austin became the anti-San Francisco and the anti-Nashville, musically, and started attracting people who wanted make music, not necessarily build a career; in other words, for all the "wrong" reasons. That's where what I call the Alternative Austin Business Model comes into play. People building places and making things just because it's cool, not because there is money involved.
After music comes film—the Austin Film Society—and food—Whole Foods Market—then South By Southwest music. In the '90s, tech happens and changes everything. The city booms, money pours in, and Austin becomes this attractive, desirable place of global importance.
Why has Austin been such fertile ground for what you describe as the "cosmic accidents" that have changed the city and Texas culture more broadly?
Austin's history provided the template for these "cosmic accidents." Three institutions that have defined the city since its founding in 1881. Two—the University of Texas and the state capitol—are well-known. The third leg of the stool, Scholz Garten, doesn't get the recognition it deserves. Scholz Garten is Austin's (and Texas') oldest continuously operating business. The fact that it is a German club founded for the purposes of singing and dancing and beer-drinking speaks volumes. The pursuit of pleasure is historic to Austinites. We know how to have a good time, compared to the rest of Texas, because it's in the city's DNA.
You've been an authority on Austin and Texas creative culture for more than four decades. What surprised you when researching this book?
The biggest surprise was the depth of the writing community, going back to the beginning when printing presses were more common than churches, unlike anywhere else in the Southwest; and to Austin's first star writer, O. Henry. The writing chapter follows the career of Texas' greatest living writer, Stephen Harrigan, who is drawn to Austin because there are skateboards and because UT screened films. Harrigan initially supported his writing habit by mowing lawns for a living. Today, he's telling the epic story of Texas.
Your last chapter strikes a somewhat elegiac tone. Do you mourn the loss of funky, old Austin?
The arc from 1970 to the present follows the transition of Austin from a quirky, cheap, off-the-radar small city to a global metropolis that defines cool in numerous ways. There's a good amount of loss and regret voiced in the book for how things used to be—the "You should have been here two years ago" effect. But as much as the city has transformed to the point a creative person must have an entrepreneurial streak in order to afford to live in Austin, the elusive cool element remains, especially if you've just arrived. I tried not to let the Old Grump in me bitch and moan about loss. That goes with the territory of any place that grows and changes yet remains dynamic. I let my last character, a twenty-something named Joanna Wu, do the talking for me on this.
What does the future hold for Texas' capital?
The next layer of cool will likely come out of tech-film, music-tech, or film-music hybrid. Tech became the driving economic force of Austin in the 1990s. Since then, the walls separating the various creative forces of Austin have come down and collaborations increased. The Fantastic Fest film festival and RTX, Rooster Teeth's annual meetup and animation festival, are great examples of this convergence. So is the band Spoon, whose principals once worked at Austin tech companies.
The book grapples with the economics of creativity. In 1973, Austin had the lowest cost of living in the 100 largest cities in the United States. Today, it is the most expensive city in Texas. The creatives who built these modern institutions that Austin is known for can no longer afford to live in the city. Like teachers, police, and firemen, they have gone to the suburbs and surrounding small towns for affordable housing. An artist coming to Austin today either has a lot of money already, or knows how to hustle to pay bills. Still, creative types continue coming, along with more than 150 other newcomers every day. They want to be in Austin.
How did the idea for Austin to ATX come to you?
A book about Austin has been rumbling around in my head ever since the first book: the biography with Stevie Ray Vaughan that Bill Crawford and I wrote in 1993. There was a lot of Austin in that book, and in the biography of Willie Nelson that I wrote. I was also moved by the line that locals like to give to newcomers, "You should have been here two years ago." I first heard that in 1973 and still hear it today. The Dallas Cowboys book I wrote in 2012 turned out to be a city book that was more about Dallas than the Cowboys. I wanted to take on Austin next, but instead of one institution to attach it to, I found all these new institutions started by outsiders that told modern Austin's story, including South By Southwest and the Austin Film Society.
It's not about mainstream business, and it sure isn't about politics. This is about transformative Texas culture.