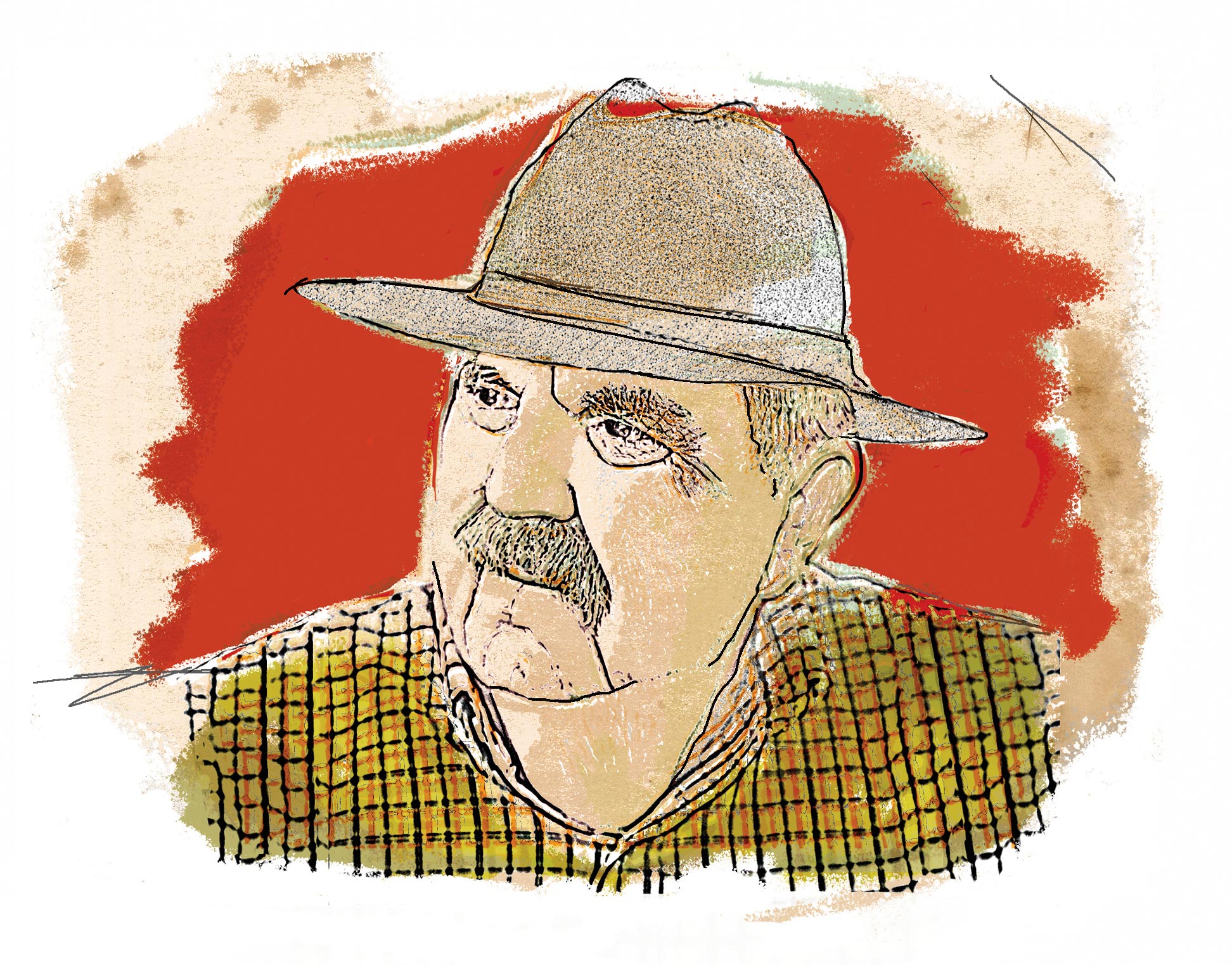 Lonn Taylor wanted to be a history professor. That is, until Janis Joplin derailed his career plans.
Now 78 years old, Taylor is an old-fashioned raconteur with a bushy mustache, Stetson Open Road hat, and an assortment of snappy bow ties. He's also the author of more than half a dozen books and a historian who draws inspiration from his adopted home of the Big Bend.
But in 1962, Taylor was enrolled in a doctoral program in New York studying Southeast Asian history. He came to Austin to attend a summer class and happened to move into a garage apartment next door to the legendary rock singer, whose late-night jam sessions with her "seven or eight" musician roommates proved more compelling than Taylor's coursework.
"We had to buy a rain gauge because the opening of every conversation in July and August is, 'How many inches did you get last night?'"
"About the second week, I quit going to class," he confesses. "I never went back to New York. I never got a Ph.D."
Instead, Taylor hung around town and stumbled into a gig writing exhibit proposals for San Antonio's 1968 HemisFair, embarking on a career as a museum curator and director. Upon retiring in 2002 as a historian for the Smithsonian's National Museum of American History, Taylor and his wife, Dedie, settled in Fort Davis, where he writes a weekly column for the Big Bend Sentinel and broadcasts a history program every Friday morning on Marfa Public Radio.
Taylor's most recent book, Marfa for the Perplexed, was published less than a year ago, but he's already anticipating his next title this spring. Turning the Pages of Texas aims to bring recognition to the state's lesser appreciated authors.
Q: You spent much of your childhood overseas and much of your adulthood in Washington, D.C. How'd you come to settle in the Big Bend?
A: I first came out here at the age of 16 with my father, a federal highway engineer. We had just moved back to Fort Worth, and Texas was all fairly new to me. I had never seen a volcanic landscape and high desert like this. I just fell in love with it, but I did not come back for many years. In 1993, I attended a conference at Sul Ross in Alpine. It was an absolutely beautiful spring day. I was driving back to the airport in Midland when I stopped in the Fort Davis Drugstore to have breakfast. They still had payphones then, so I called Dedie and said, "Dedie, quit your job. Sell the apartment. Get down here! This is the place."
The next spring, we took a three-week vacation, and we went everywhere. We stayed at the Gage in Marathon. We stayed here in Fort Davis. We stayed down in the park at the Chisos lodge. We even stayed at the Three Palms in Presidio. By the time we had finished the tour, we decided Fort Davis was really the place we wanted to retire.
Q: You've written a history column, "The Rambling Boy," for about 15 years. How do you find stories?
A: Oh, there's no dearth of subject matter. I keep my eyes open. I drive around the countryside and drink coffee with people, talk to them, and when I get desperate, I've got a pretty good library of Southwestern history. The column I had the most fun with was on the Marfa lights. I got the most wonderful crackpot theories. My favorite was that the lights are sighted where an Army training base operated in World War II. There are people who sincerely believe the Army was carrying on some kind of secret nuclear experiment out there, and there are piles of radioactive waste. Jackrabbits have gotten into that radioactive waste, and what you're looking at is the glowing fur of jackrabbits.
Q: You're working on a memoir about your childhood. How did growing up in the Philippines influence your worldview?
A: It made me understand at a very early age that there are a lot of people in the world who don't do things the way Americans do. And sometimes they do them better. It also made me a firm believer in the value of multiculturalism because the Philippines is part Malay, Spanish, Chinese, and American. The amalgamation of all those cultures makes them stronger than any one on their own. I see that every day here in the Big Bend. You've got Anglos and Hispanos living cheek by jowl with each other, and they have been for a long, long time.
Q: Where should people go when visiting Fort Davis?
A: The Fort Davis National Historic Site is the best preserved 19th-century cavalry post in the West, and it's very well interpreted. For a place to eat, there's a little Mexican restaurant called Poco Mexico. It's owned by the Dutchover family, one of the oldest Hispanic families in Fort Davis and an example of the Mexican-Anglo coalition of the Big Bend. The Dutchovers' founder was a Belgian immigrant named Anton Diedrick. He came to America right at the beginning of the Mexican War. He enlisted in the Army, and the recruiting sergeant said, "You can't even speak English. You're Dutch all over." And his name was written down on the regimented rolls as Diedrick Dutchallover. He kept the name [later shortened to Dutchover] and came here as a stagecoach guard, married a Mexican woman, and they had 11 children. Half the people in Fort Davis are related to the Dutchovers.
Q: What has surprised you about living in the Big Bend?
A: I think I've run out of surprises, but there were plenty when we first moved here. I was not used to having a long chat with the clerk in the grocery store when people were standing in line behind me. Or passing people on the sidewalk and being expected to stop and talk. We had to buy a rain gauge because the opening of every conversation here in July and August is, "How many inches did you get last night?"
From the February 2019 issue