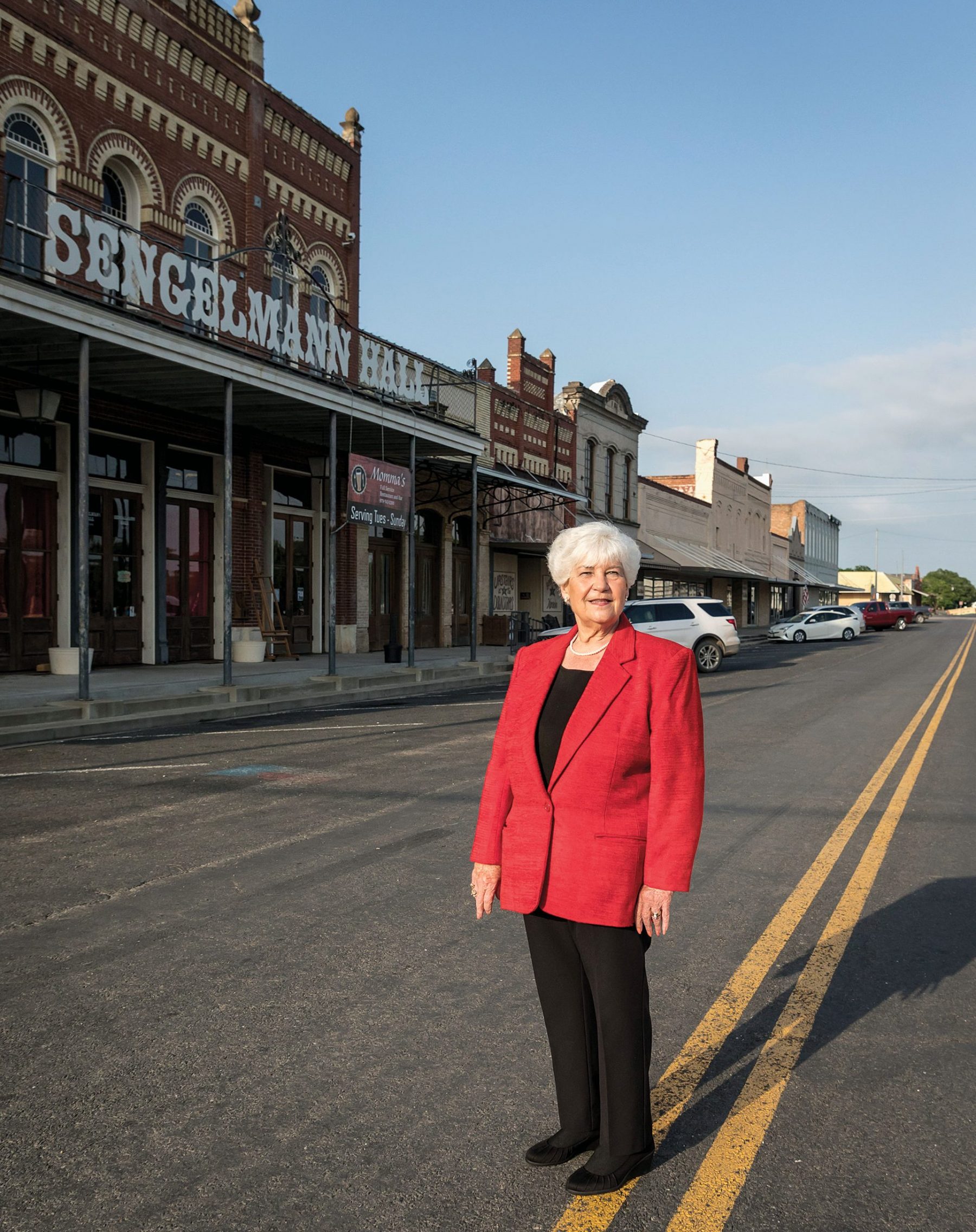 Located at the intersection of Interstate 10 and US 77, Schulenburg may be best known as a reliable stop for a kolache fix. But with its roots in German and Czech settlement, this little town offers outsized cultural attractions, including spectacular painted churches, the Texas Polka Music Museum, and the Stanzel Model Aircraft Museum. Schulenburg was incorporated as a railroad town in 1875, and the arrival of a Carnation Milk condensing plant put the town on the map in 1929. The plant still operates, now part of Dairy Farmers of America, and employs more than 200 people making dips and salsas. Mayor Elaine Kocian was raised 8 miles down the road in Weimar and moved to Schulenburg when she married in 1966. Along with her mayoral duties, Kocian relishes evening walks with her neighbors, attending church picnic reunions, and helping organize local events, such as Schulenburg Festival, an August tradition. From her office on historic Main Street, Kocian reflects on life in her hometown.
Sunday Best
Calling itself the "Official Home of the Painted Churches," Schulenburg is a prime starting point for regional tours of the elaborately decorated churches built by Czech immigrants at the opening of the 20th century.
The churches, such as the 1906 St. Mary Catholic Church in High Hill, keep their doors open to visitors during the day, and the Schulenburg Chamber of Commerce offers tours.
866-504-5294
schulenburgchamber.org
High School Sweethearts
"I attended Bishop Forest High School in Schulenburg, and my freshman year I met my husband of 51 years, Otto Kocian. When Otto passed in March of 2018, he was mayor, and the City Council unanimously recommended me to fill his term. I feel that people who can serve should serve, so I accepted the appointment and quickly realized I loved the work. Each day presents a new opportunity to make a positive difference in the community."
Halfway to Everywhere
"We are proud to say we have the rolling hills and the beautiful bluebonnets and Indian paintbrushes in the spring. We are not the Hill Country, and we aren't the lakes, but we are nestled in between the hills. We aren't far from Austin, Corpus, Victoria, Waco, or Dallas either. We like to say we're halfway to everywhere."
Quick to Help
"Schulenburg life is less complicated and less stressful. It's a community where people know and really care for each other. When someone is sick, the community is quick to help. When someone dies, the community comes to the aid of the grieving family. When someone new moves to the town, they are greeted with a welcoming atmosphere. We are like one big family here in Schulenburg."
Locally Owned
"We have a lot of locally owned businesses throughout our community that set us apart. You can start your day off with a delicious kolache and pig-in-a-blanket at The Original Kountry Bakery. Then, learn about our heritage and culture by visiting the Schulenburg Historical Museum and Texas Polka Music Museum on Main Street. When you've worked up an appetite and you're wanting good home cooking, I suggest the buffet at Oakridge Smokehouse Restaurant. Finally, you can finish your day off socializing with family and friends over an ice-cold beverage at Senglemann Hall."
Small-Town Values
"Small-town living may not be for everyone, but for those of us who have lived here their entire life, there's no better place. We're a quiet, friendly little town where everybody knows everybody. The people who call Schulenburg home are here because they prefer small-town living and small-town values."
Nearest City
Houston
95 miles east
Map It
Stanzel Model Aircraft Museum, 311 Baumgarten St.
From the August 2019 issue