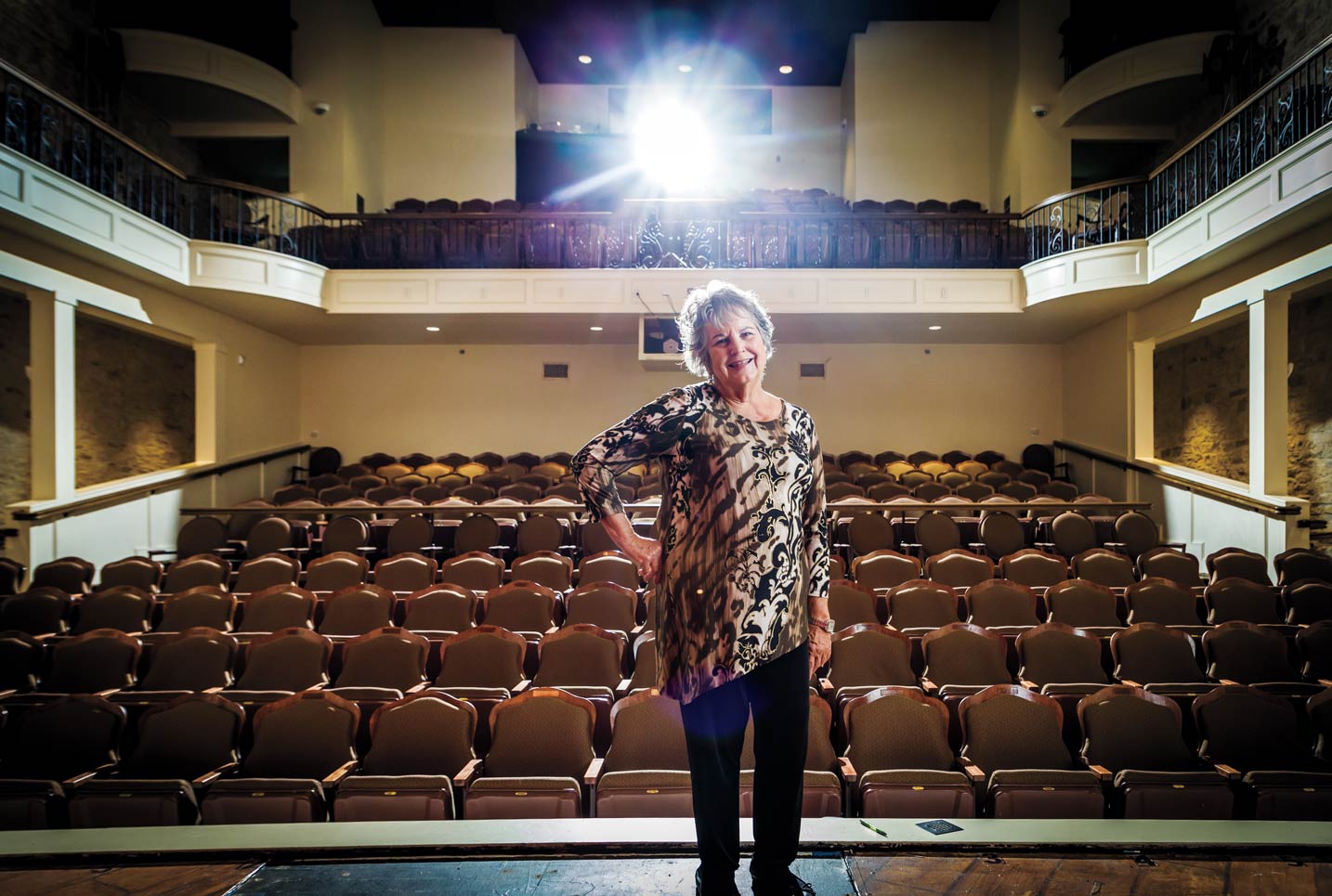 During karaoke night at D'Vine Wine on the Granbury Square, Faye Landham works the crowd. Amid off-key singing and wine-fueled laughter, Landham, a regular at this lively gathering, greets friends and strangers alike with the latest town news and happenings. It quickly becomes clear why Landham is known around Granbury as an "unofficial ambassador." Within the cozy confines of this North Texas town, Landham immerses herself in volunteering: She works with the Opera Guild of Granbury, the Ada Carey Family Violence Shelter, the Granbury Chamber of Commerce, and the list goes on.
Founded in 1866, Granbury developed as a center for agriculture, and the arrival of the Fort Worth and Rio Grande Railroad in 1887 fueled a building boom that created a legacy of historic downtown buildings. Today these limestone brick structures—including the 1890 Hood County Courthouse—and attractions like Lake Granbury draw locals as well as visitors from nearby Fort Worth and Dallas looking for a small-town escape.
Next time you're in Granbury, keep an eye out for Landham, a retiree who moved from Arlington about six years ago. She'll be happy to bring you up to speed.
The Granbury Opera House
Among the historic buildings of downtown Granbury, the 1886 Granbury Opera House, renovated in 2013, is home to the Granbury Theatre Company. The 2019 season includes Broadway hits Driving Miss Daisy, Mamma Mia!, and Grease.
First impressions
"Before I moved here, I would come down on weekends and walk around the square. I was raised in a lot of small towns, and I've lived in big towns, too. It's mostly the people here that I love. The people here are so giving, whether it's donations for a cause or an item for an auction. I think this is the most giving town I've ever seen."
The Square
"I think Granbury's pretty perfect like it is. We have a lot of activities, a lot of festivals; I love the things we do on the square. I'm a member of the Historic Granbury Merchants Association, which organizes a lot of activities on the square."
The Opera House
"We have a beautiful opera house, and we're real proud of it. We hear people from Fort Worth say they'd rather drive down and go to our plays, that they're just as good and a lot less expensive."
Everybody Knows Your Name
"Sometimes small-town life can be tough because there are a lot of people kin to each other here. I got myself in trouble sometimes when I first moved here.
You need to be real careful about what you say because that might be somebody's uncle or cousin."
Land of the Free
"We have a large celebration for Texas Independence Day. Davy Crockett's wife, Elizabeth [Patton Crockett], is buried at the Acton Cemetery, and so we always have a big celebration for her. And people dress up in the correct costumes and tell stories about Texas' independence."
Away in a Manger
"I have 1,500 nativity sets from all over the world, from 85 countries, that I put on display every December [at Langdon Concert Hall]. I arrange them by country, and I have an area where children can sit by the fireplace and play with nativity toys. I also have a vintage section, 1930s or older—they're my pride and joy, of course. People drive from all over, sometimes people come two or three times a week."
Keeping it Local
"I'm really a fan of buying local because I want so much for Granbury to grow. I say, if they don't have it in Granbury, I don't need it."
Nearest City
Fort Worth
35 miles northeast
Marquee Events
March 2-3
Texas Independence Day
April 26-27
Granbury Wine Walk
Labor Day Weekend
Lighted Labor Day Boat Parade on Lake Granbury.
Typically held the Sunday of Labor Day weekend.
Map It
Granbury City Hall
From the January 2019 issue