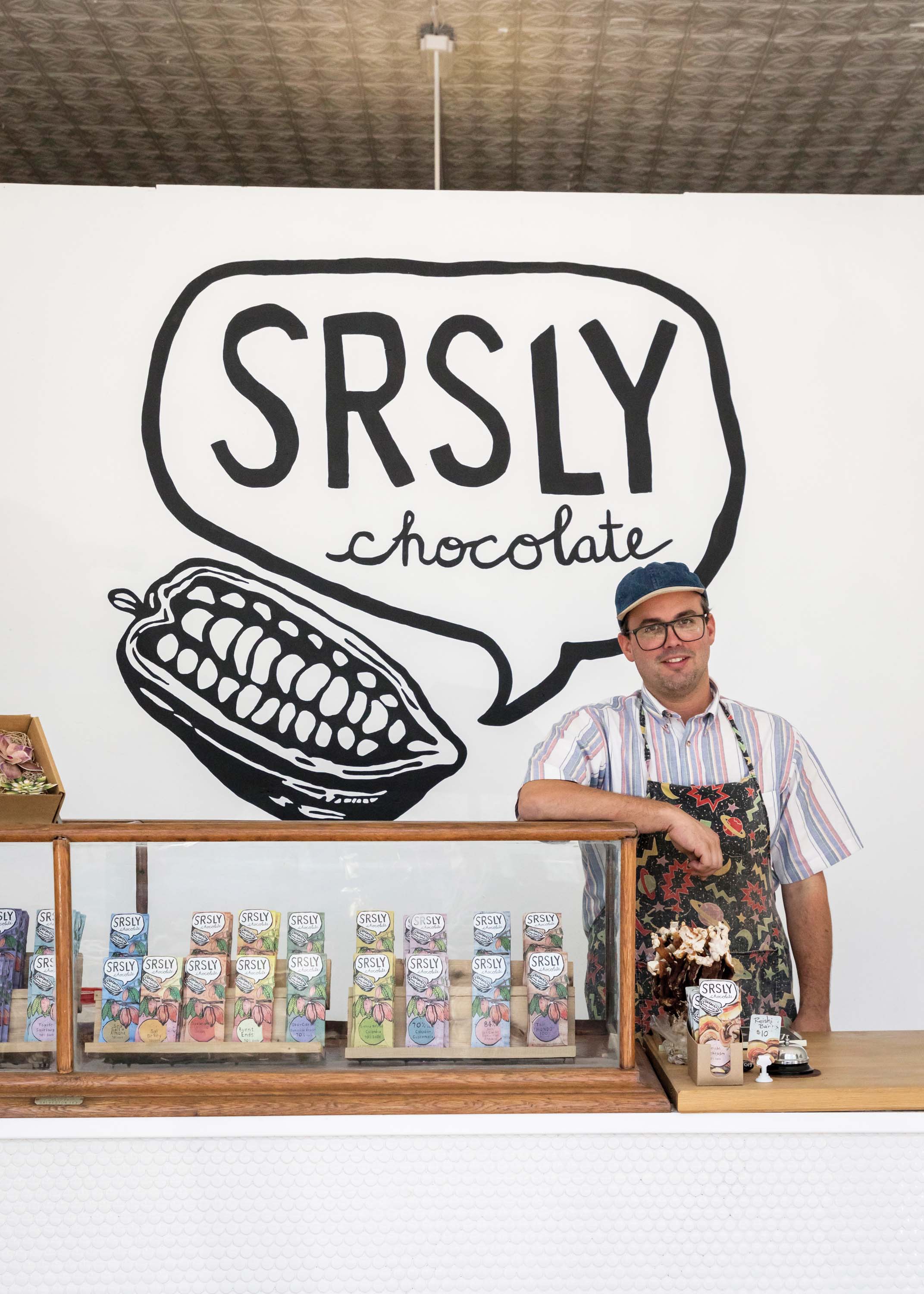 Bob Williamson flings open the hatchback of his Honda Fit, and the aroma of freshly roasted cocoa beans wafts around us.
"I just returned from Third Coast Coffee," he says, hefting a burlap sack onto his shoulder. "I roasted these in their IR-2.5 Diedrich roaster. All the rest of the steps from bean to bar take place right here."
He walks into SRSLY Chocolate's retail store and factory in downtown Taylor, which Williamson and his business partner and wife, Robin Simoneaux-Williamson, opened in September 2018. The place has a retro-chic atmosphere with its whitewashed vintage brick walls and sleek modern fixtures.
The couple moved to Austin five years ago but decided to set up shop in nearby Taylor. The town's modest real estate costs played a role in the couple's choice, but so did the desire to put down roots and start a family.
SRSLY Chocolate, 117 E. Third St., Taylor. Open Thu-Sat, noon-6 p.m. 512-726-3427; srslychocolate.com
"We just fell in love with Taylor and its really good sense of small-town charm," Williamson says. "Taylor's going through quite a
renaissance, with a variety of new businesses opening downtown. The old-time Taylor people have been extremely receptive, supporting our shop and attending our workshops."
Before Williamson crafted cocoa, he was a cheesemaker. While working at Sweet Grass Dairy in Thomasville, Georgia, he learned
how processing could elevate a raw natural product. He dabbled in home-brewing, pickling, and jam-making before settling on chocolate-making, which had an accessible cost-of-entry into the market and nearly zero waste (the cocoa husks are recycled into mulch).
The Williamsons launched SRSLY Chocolate in 2012. They were living in Tallahassee, Florida, at the time, but realized they would need a broader customer base for their fledgling business to thrive. "Tallahassee—about a quarter the size of Austin—just wasn't big enough to support our business year-round," he says. "We came to Austin in 2013 because of a built-in network of friends and found it to be a great food incubator." The risk paid off—today, SRSLY produces about 1,200 pounds of chocolate a month.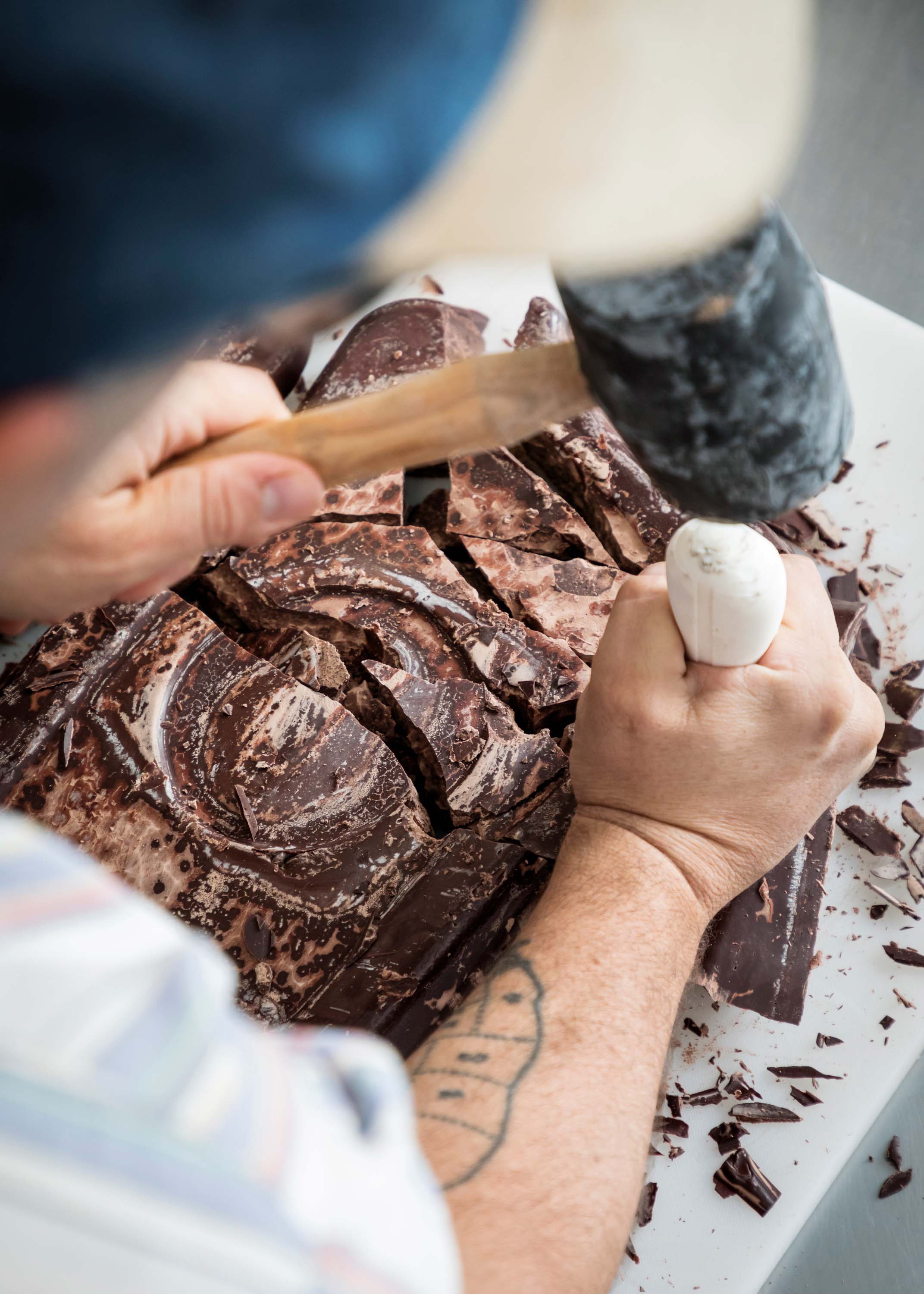 Though the chocolate-making process begins in Taylor, the beans come from at least 2,000 miles away. They are harvested in the Duarte province of the Dominican Republic, where the Öko-Caribe farming cooperative tends native Criollo cacao trees. Criollo trees produce the world's most cherished cocoa bean: low-yielding, but incomparable in flavor. To transform the cacao seeds into cocoa beans, they're harvested from the pod-like fruit, fermented for seven days, dried, and transformed into delicate, fragrant beans revered in the chocolate trade.
SRSLY offers a dozen or so bars, depending on the season—the cocoa content ranges from 30 percent to 100 percent. Some feature locally sourced ingredients such as the Texas Mesquite, with caramel notes of mesquite bean flour; the Cranberry & Texas Pecan, featuring Yegua Creek pecans; and the Sal de Rey, sprinkled with sea salt harvested from the eponymous South Texas lake. Other flavors include Dark Milk, Sea Salt & Almond, and Coconut Milk. Some bars are made from difficult-to-procure, rare beans from organic cooperatives in Belize, Guatemala, and Haiti. SRSLY even concocted a limited-edition brisket chocolate bar, flecked with smoke-dehydrated burnt ends from Stiles Switch BBQ & Brew in Austin. They all share a glossy finish, tantalizing aroma, melt-in-your-mouth sensation, and satisfying snap when you break off a piece. 
"Chocolate-making scratches all my itches: engineering, craftsmanship, creativity, teaching, collaboration, and fun. And it puts a smile on my face."
"In a perfect world, I'd like to release a new flavor each week," Williamson admits with a grin.
In addition to sampling and buying SRSLY Chocolate at the Taylor store, you can also find the products at Whole Foods Market, other specialty stores in Texas and on the East Coast, and online.
Still, the best way to experience SRSLY Chocolate is to attend one of its hands-on workshops. With a showman's banter, Williamson guides attendees through all of the chocolate-making steps, sending everyone home with a sack of small chocolate bars that were molded and flavored in class. Simoneaux-Williamson leads bon bon-making classes at the Taylor shop, teaching aspiring chocolatiers how to make ganache and how to paint, shell, fill, and cap handcrafted bon bons.
The couple is also happy to show visitors around the factory and explain the steps of chocolate-making, from roasting to molding (see sidebar).
"Chocolate-making scratches all my itches: engineering, craftsmanship, creativity, teaching, collaboration, and fun," Williamson says. "And it puts a smile on my face."
And on countless other faces as well.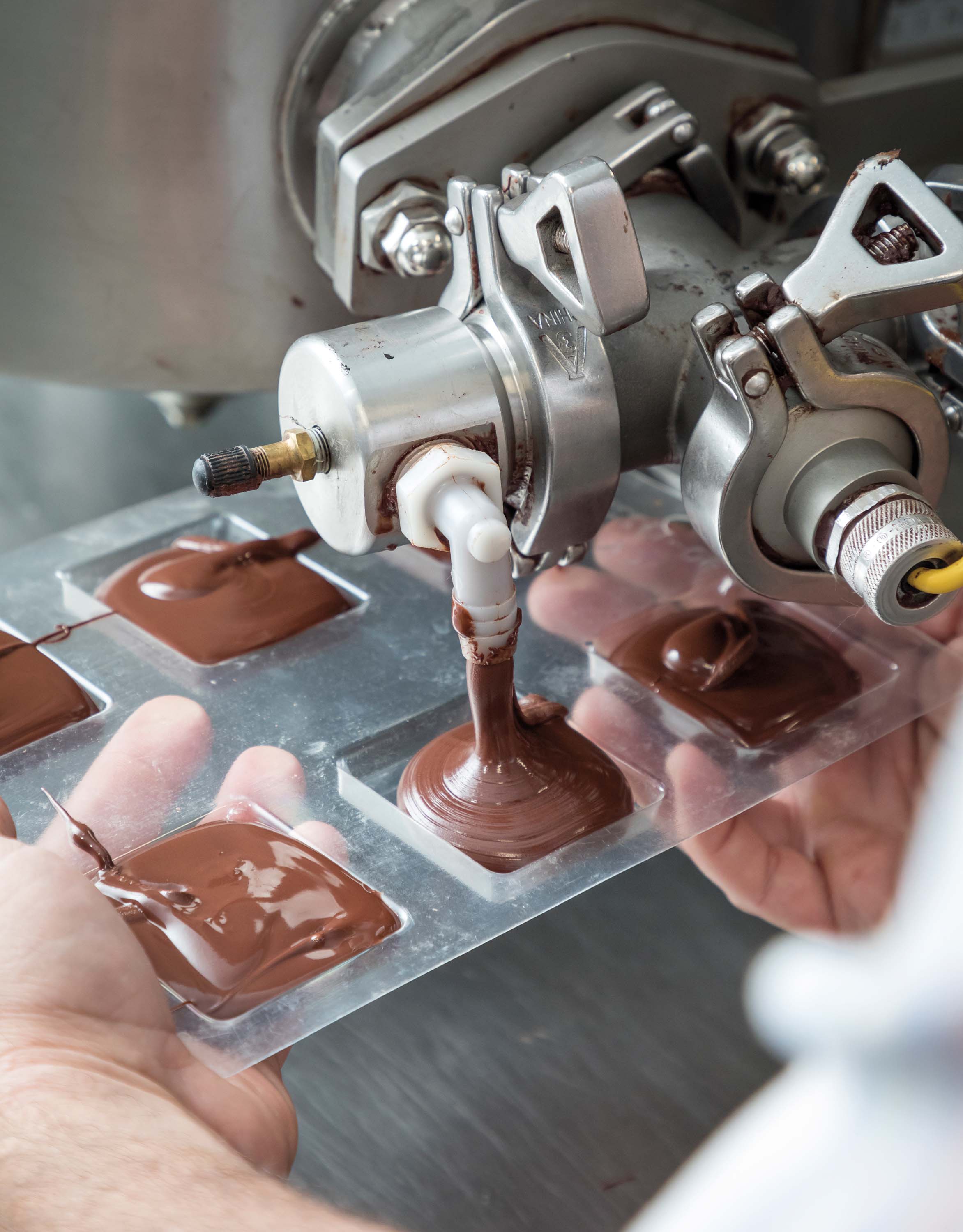 A Chocolate-Making Primer
Grading and Roasting: The beans are graded, with inferior beans being discarded. Williamson stresses using a "light hand" to tease out flavor in the roasting process. "If it starts smelling like chocolate brownies, you've roasted too long," he says, adding that roasting produces chemical reactions that reduce bitterness, enhance the chocolatey flavor, and separate the inner cacao nib—chocolate in its purest form—from its papery husk, simplifying cracking and winnowing.
Cracking and Winnowing: Next, Williamson cracks open the beans to release the cacao nibs from their outer husks. He then transfers the nibs and husks to his handmade winnower, a Rube Goldberg-type contraption powered by a Shop-Vac that vacuums away the light husks from the heavier nibs. He donates the husks to local farms for mulch and retains the nibs for processing.
Grinding and Conching: The nibs are then ground in a melanger (a type of wet stone mill) around the clock for several days, with friction from the stones generating a temperature between 115 F and 130 F. Once the nibs have become a thick, smooth paste, organic cane sugar is added. Continuous grinding ripens the chocolate, reduces grittiness, develops flavor, and improves viscosity. The process, called "conching," is said to have been invented by Swiss chocolatier Rodolphe Lindt in 1879.
Tempering and Molding: "Chocolate is a prima donna when it comes to tempering," Williamson warns. "When cooling, chocolate can form six different crystal arrangements: Four are undesirable, one is unachievable, and one—the Stage 5 crystal—is glossy, very strong, more heat resistant, and has that beautiful mouthfeel; not grainy or sandy." To achieve the Stage 5 crystal, he heats the chocolate to 110-115 F and then stirs continuously while cooling it down to 85 F to agitate the crystals. Bringing the temperature back up to 90 F gets rid of Stages 1 through 4 crystals. The warm chocolate can now be poured into molds.
From the January 2020 issue