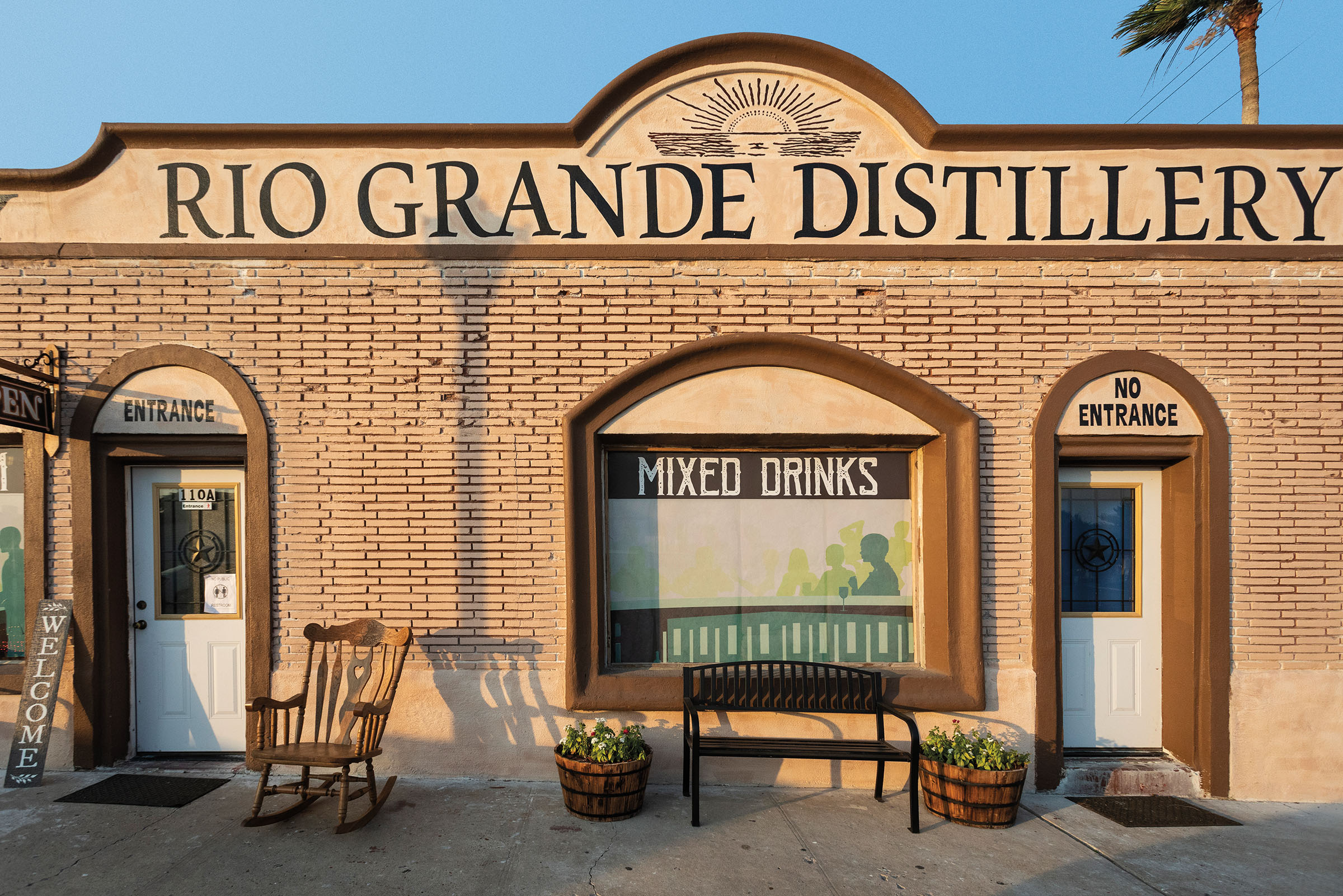 More than 100 years after moonshine surged in popularity during Prohibition, distilleries across the state are reviving the once illegal spirit. Congress established the 18th Amendment in 1919, which made the manufacture, sale, and transportation of alcohol illegal—but not its consumption. Bootleggers had to improvise to make contraband whiskey, using anything that fermented, including corn, rye, wheat, barley, vegetables, fruits, or even sugar.
While some die-hard moonshine fans say anything made with a license doesn't qualify as the real deal, craft moonshine distillers pride themselves on using original recipes from the bootlegger days. These newer moonshine producers often have meaningful personal origin stories around which their distilleries are built.
Sledge Distillery
8210 Paluxy Highway, Tolar.
Open Fri 2-5 p.m., Sat 2-10 p.m.
817-888-8119; sledgedistillery.com
Elk Store Winery & Distillery
327 E. Main St., Fredericksburg.
Open Sun-Thu 1-9 p.m., Fri-Sat 1-11 p.m.
830-997-2665; elkstore1895.com
Rio Grande Distillery
110A N. Garcia St., Port Isabel.
Open Mon-Thu 11 a.m.-11 p.m.,
Fri-Sat 11 a.m.-1 a.m., Sun noon-10 p.m
956-943-7058; riograndedistillery.net
Honoring family history is a central tenant at Sledge Distillery in Tolar, about an hour southwest of Fort Worth.  Co-owner Mark Sledge grew up without knowing his father, Dub, had been a prolific moonshiner during World War II. "My father never talked about the war," Sledge says. "Then one day we were out fishing, and he mentioned the 'family business'—I had no idea what he meant." Over the next several years, Sledge coaxed the truth from his father, who revealed he was a moonshiner, first in Texas and then in Papua New Guinea, where he was stationed during the war. But he gave it up at the insistence of his fiancee, Sledge's mother. "That's true love," Sledge quips.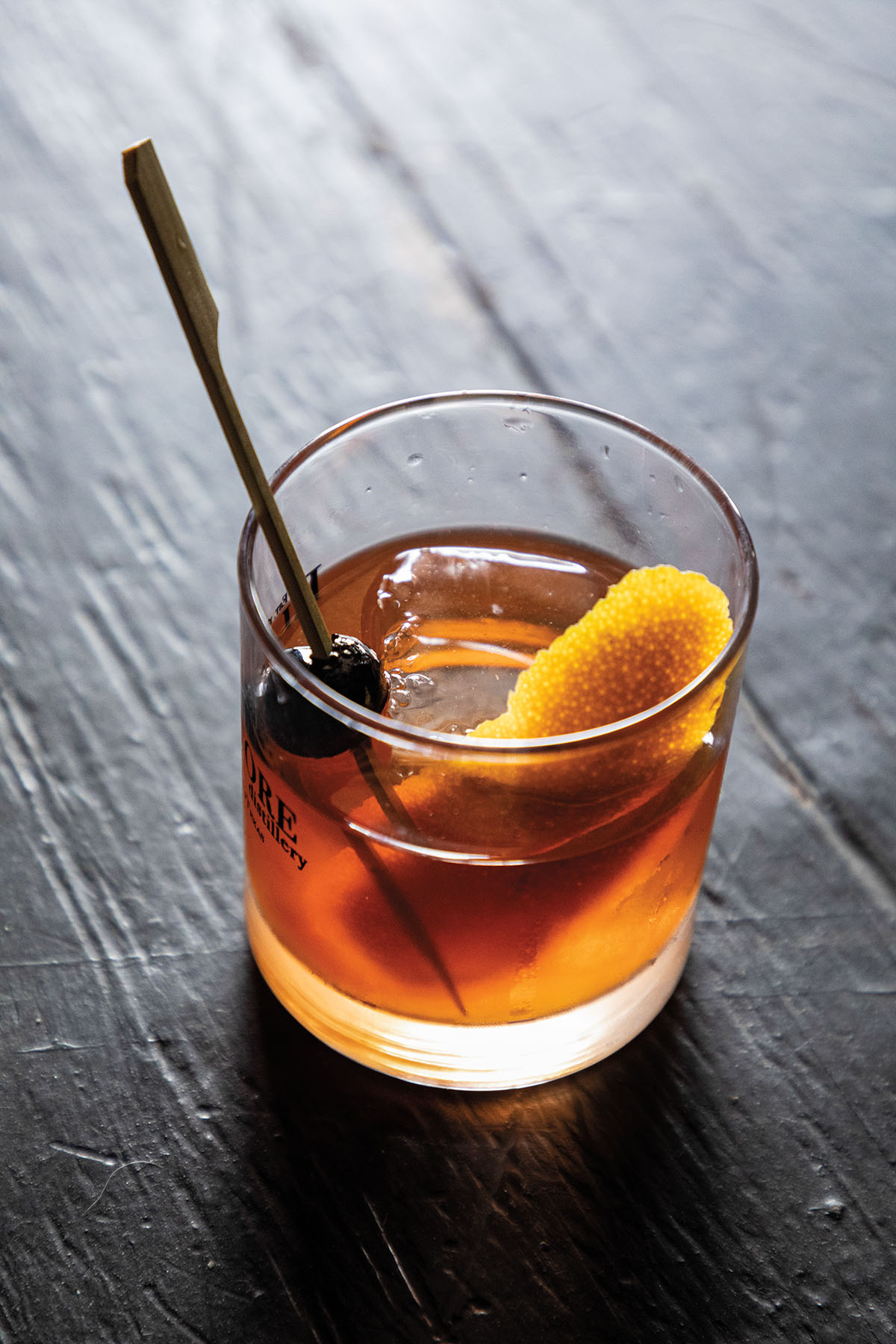 After his father's death, Sledge found recipes in his war chest and began making South Pacific moonshine to share with friends. Due to limited access to ingredients, his father's moonshine had been made from mess hall scraps, including bits of potato, tomato, and corn. Using those same ingredients, Sledge tweaked the recipe to create the Oak-Aged Reserve that retails for $100. 
The distillery also offers a wide variety of fruit and spice moonshines, including peach, cranberry, pecan, limoncello, and cinnamon-Hatch chile. The working ranch the distillery sits on also houses an elegant, inviting taproom that mixes Western and industrial chic that has two stages of live music on Saturday nights. There's also a hidden speakeasy bar that is decorated with family heirlooms. The carefully curated cocktail menu includes chocolate martinis and blackberry mojitos. All 28 staff members are friends or family, and Sledge prides himself on the distiller's warm atmosphere and inclusive service. "For us, it's about quality," he says. "We make what we want to drink, and we treat everyone like family."
Three hours south in Fredericksburg, Todd Smajstrla has built Elk Store Winery & Distillery around a very different but equally potent family legend. A wine industry veteran, Smajstrla and his business partner, Scott Hladky, decided to expand into distilling six years ago. Around the same time, Smajstrla discovered from his family that his great-grandfather John Cyril Smajstrla had been a renowned moonshiner in Elk, where he settled after immigrating from the Czech Republic. He sold his product out of his Elk General Store. 
Smajstrla and Hladky decided to make this the concept for their own distillery. "We do a lot of things the same way my great-grandfather did but have expanded on his ideas," Smajstrla says. John Cyril made his moonshine from pure cane sugar, creating a liquor that is naturally gluten- and ethanol-free and forms the basis for the distillery's vodka, gin, and rum. Elk Store also offers oak-aged, pecan, and cinnamon moonshine, all of which are crafted into Prohibition-era cocktails in a sleek speakeasy-style space. The Old-Fashioned made with the smooth, sophisticated oak-aged Charter moonshine is the bar's bestseller, with the pecan pie Nuck and Futs cocktail close behind.
Boozy Bonus
K. Spoetzl Distilling Company, Shiner
The 115-year-old Spoetzl brewery famous for Shiner Bock now has a distillery that produces 90-proof moonshine, dubbed Shiner Shine.
shiner.com
Copper Shot Distillery, Bastrop
Husband-and-wife team Stephen and Cheri Todee craft moonshine made only with rainwater, natural grains, and sugar at this distillery and lounge right off the Colorado River.
coppershotdistillery.com
Ironroot Republic Distilling, Denison
Along with cognac, this family-run distillery produces a 90-proof moonshine flavored with hints of lychee nut and berries.
ironrootrepublic.com
Whiskey Hollow Distillery, Valley View
Award-winning whiskey maker Les Beasley is a generations-deep Texas distiller who crafts moonshine in flavors like lemonade and pickle juice.
whiskeyhollowdistillery
.com
Backwoods Craft Distillery, Waxahachie
While still relatively new to the Texas distiller's game, this craft spirit maker has established a reputation for innovation with habanero, peach, and green apple moonshines.
backwoodscraftspirits
.com
Justice Label Distillery, Sinton
This mom and pop coastal distillery uses an 80-year-old family recipe to produce a wide variety of flavored shines like Bee's Knees Honey Shine and Pawpaw's Pickled Shine.
facebook.com/
justicelabeldistillery
MKT Distillery, Katy
Named after the MKT railroad, this craft spirits distillery makes vodka, gin, bourbon, whiskey, and two kinds of moonshine, including the cinnamon-flavored KT Firebox shine.
mktdistillery.com
Azeo Distillery, Hye
Attached to Horn Winery, this distillery just west of Johnson City combines moonshine and wine to create a unique 100-proof shine from Paso Robles wine grapes.
azeodistillery.com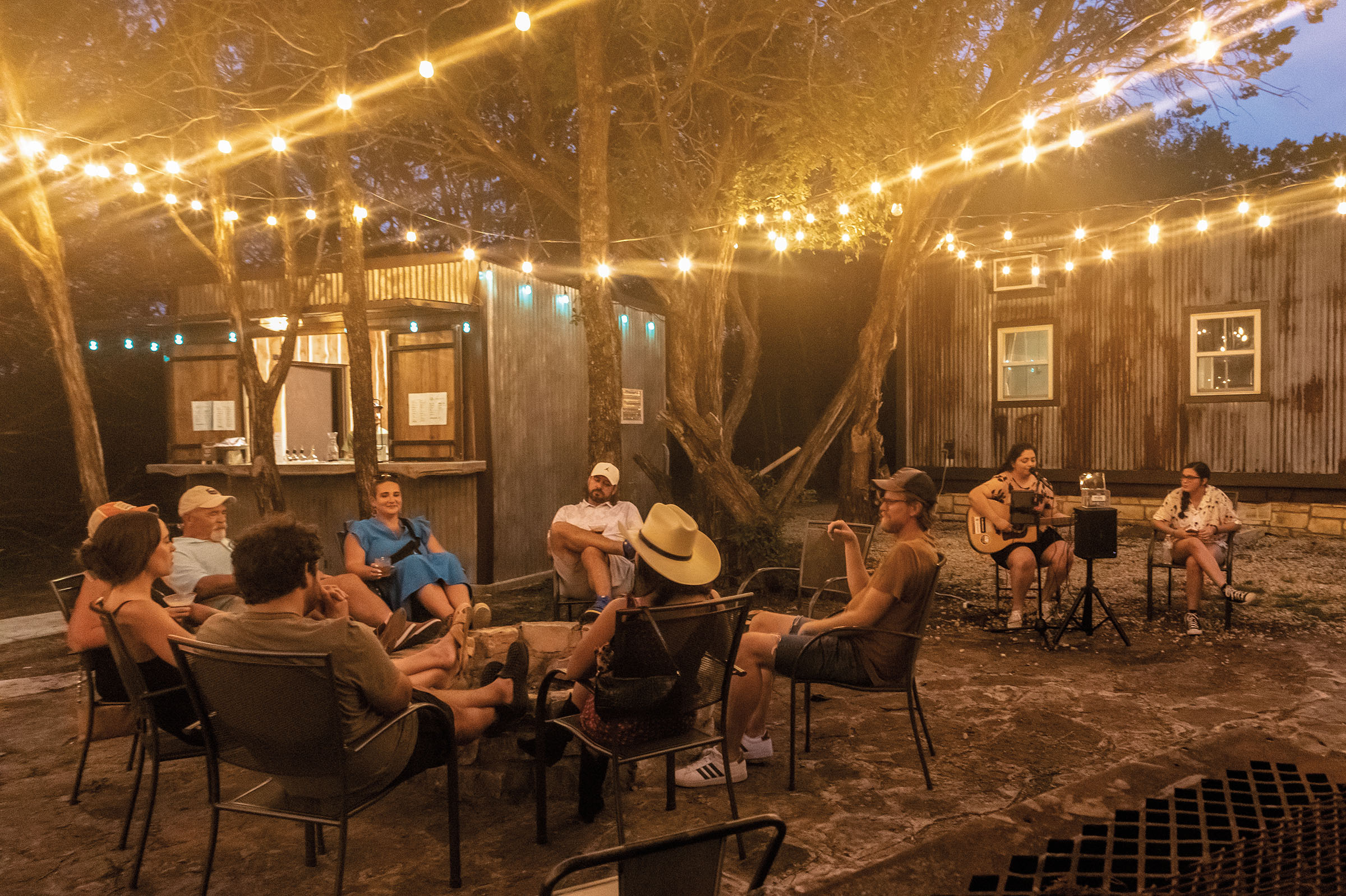 Mere yards from the lapping waves of the Gulf of Mexico and Port Isabel's famous lighthouse, Jerrod Leon Henry serves a breed of moonshine at Rio Grande Distillery that combines his experience as a bona fide bootlegger with his 26 years of border life. Growing up on the Missouri-Arkansas border, "where you had to travel two counties over just to get a beer," Henry learned to work a still as a teenager and was soon bootlegging over state lines. His natural affinity for distillation came with him to Texas, where his exposure to Mexican flavors informed his creation of a range of moonshines based on his original recipes, with a coastal twist.
In Rio Grande's expansive military-themed taproom outfitted with parts of decommissioned aircraft carriers, Henry cooks up his classic Corn Likker shine, which he mixes with traditional agua fresca flavors, including cantaloupe and watermelon. He also makes a beautifully balanced horchata and shine with rice milk, raw Mexican sugar, and cinnamon, which he describes as "Mexican Baileys." Henry's White Mule shine is a legal version of his original recipe, which he ages with cut up whiskey barrels from his brother's distillery in Missouri. He uses it to make his bestselling Buckskin Shine, a warm, smooth boozy butterscotch sipper with subtle oak flavors.
Henry, who appeared on the Discovery Channel's Moonshiners: Master Distiller and was the winner on his episode, believes making moonshine is his calling. "It's in my blood," he says. "Once you start, you don't quit." He also emphasizes the significance of the spirit's history. "There is a certain allure with moonshine that you don't get with other liquors," he says. "Moonshine is an archetype—it's buried in the American psyche."
From the September 2023 issue