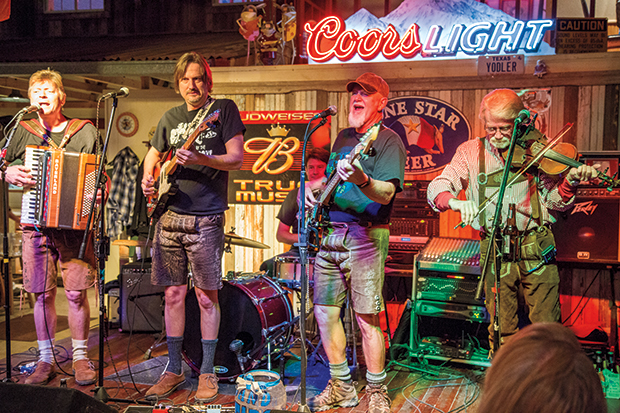 Off a dark winding road about four miles northeast of Georgetown, a lively German-style celebration unfolds most weekends. Or at least that's the rumor my friend Adam and I are acting on when we head out from Austin toward Walburg on a recent Friday evening.
The Walburg German Restaurant is at 3777 FM 972 in Walburg. Closed Mon-Tue. Call 512/863-8440.
When we arrive at our destination, the Walburg German Restaurant, the entrance looks so unassuming that we wonder if we've come to the right place. Despite a brightly lit marquee, the hand-lettered writing on the entrance reads "Groceries, dry goods, hardware, produce, cotton"—words that hint at the building's history. In fact, the 1882 building was once Walburg's mercantile store, and if you look closely at the brick, you can make out the name of the building's first owner: Hy Doering, a German immigrant who named his dry goods store for his hometown. Hanging below these vestiges of history, newer signage greets visitors with a more recent description: "Biergarten. German-American Cuisine."
As we push open the red double-doors, we know we're in the right place after all. The happy sounds of clinking glasses and chatter greet us. Friends converge at long wooden tables covered in blue-and-white checkered oilcloth, which stretch nearly 100 feet from the door to the foot of a wooden stage, where a man sings in a jaunty mix of German and English. We pick a spot at a communal table, and with a little navigational help from our server, we order beers from a seasonal list featuring nearly a dozen German varieties on draft. Toasting with our frosty liter-size beers (or as an English friend of mine likes to call them, "proper" pints), we take a moment to look around.
The space feels a little like a beer hall, a little like a museum, and a little like an old-fashioned Hill Country lake house. Long green garlands and faded flags (representing the home countries and states of Walburg employees throughout the years) hang from the ceiling. There's plenty of wall space to cover, and the restaurant takes full advantage. On the left side of our table, a colorful mural depicting a pastoral scene in Germany takes up nearly a third of the wall. On another wall, a bowed wooden shelf displays nearly a hundred or so mismatched mugs and ceramic beer steins. Half of the eclectic collection, we learn, belongs to regular customers who are part of a "stein club" and choose to leave their mugs at the restaurant to use on each visit.
Once we're done admiring the decor, it's time to get serious about our food order. There's a generous buffet that features most of Walburg's menu items, and the faces of satisfied cus-tomers heading to their tables with heaping plates of sausages, sauerkraut, and creamy mashed potatoes make a convincing case for that route. But Adam and I each have our eyes on a specific menu item, and so we decide to order à la carte: The Bavarian Sausage Plate for him, and the veal Wienerschnitzel for me, because "when in Germany," right?
Walburg German Restaurant boasts of having a "Bavarian/Texas" kitchen, featuring authentic Bavarian dishes alongside Texas-German hybrids like "Cordon Bleu" (breaded chicken, pork, or veal stuffed with ham and cheese) and Texas-style grilled rib-eye steaks. And while our neighbor's steak looks perfectly juicy, I'm glad we're game for the specialties of the house.
There's little fuss about the presentation of either dish, but the entrées are both so tasty that it comes off as part of the charm. Adam's three different sausages—a house-made pork sausage, a veal Munich-style link, and a jalapeño currywurst—are all delicious, but the real star of his plate is the sauerkraut. Not too tart, with the perfect amount of caraway seeds adding a subtle earthiness, it's so good I consider ordering a serving to take home. Meanwhile, my veal schnitzel hits all the right notes with side dishes of mashed potatoes and red cabbage.
As we're digging into a chilled piece of Bienenstich for dessert (an almond-topped, custard-filled cake that resembles a sophisticated Twinkie), the singer onstage directs us outside. "About 159 feet away is the best yodeler in the world," he promises. Our server pours the rest of our beers into plastic cups, and off we go to the beer tent behind the restaurant, eager to hear the yodeling.
The world-renowned yodeler, it turns out, is also the owner of Walburg German Restaurant: Ronny Tippelt, who plays Bavarian tunes with his band The Walburg Boys most weekends at the biergarten. Tippelt bought the space back in 1987 after following a romantic whim that eventually led him to Texas. "I thought I'd stay a few years," he says with a laugh when we catch up with him between sets. "I've been here for 30."
Tippelt opened his restaurant in 1988 to create a home base for musicians, and particularly for his band. "You can send them on tour for a little bit," he says, "but they need a nest." Looking around the bustling beer tent and just outside, where kids scamper about and teens run back and forth from a small arcade room, it's clear Tippelt has created a home for more than musicians. "I see women with strollers," he says, "and I remember when they were in strollers."
As Tippelt heads back onstage, we nurse our final sips of bock and settle in to enjoy the music. As soon as he starts his high-pitched calls and yips, I'm mesmerized. "Whatever it is he's doing," I say to Adam, "it's incredibly impressive."
It's easy to see why people come back again and again to the Walburg German Restaurant: Somehow it feels like a new adventure while reminding us of a place we've enjoyed a million times before.
From the February 2017 issue