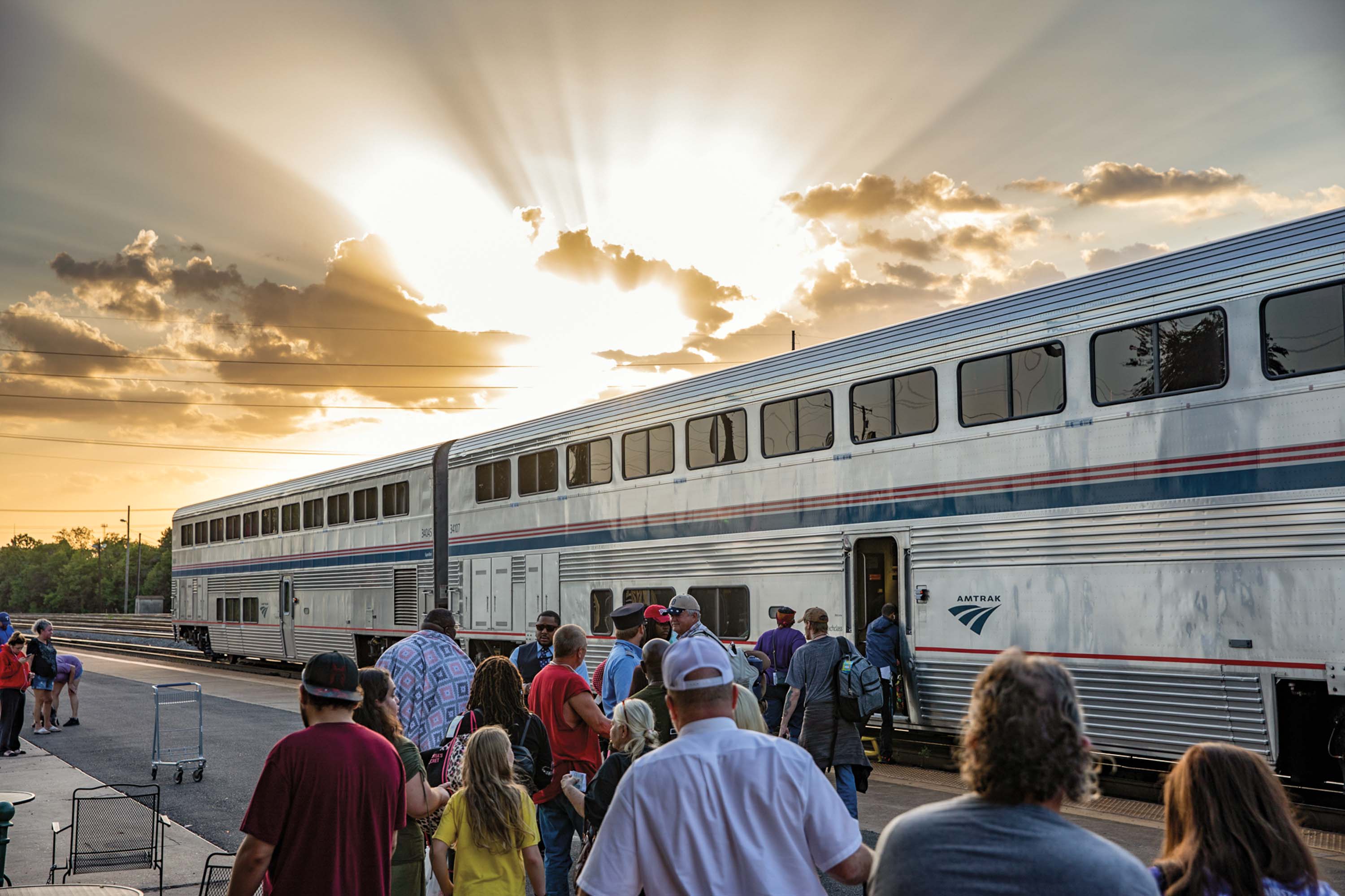 The Day the Eagle Flies
The Texas Eagle runs along the 1,306-mile train route between Chicago and San Antonio that the Texas and Pacific Railway built in the late 1800s. In 1948, the T&P, in partnership with the Missouri Pacific Railroad, introduced The Texas Eagle as a passenger train from St. Louis to San Antonio. The route was discontinued in 1971, but Amtrak rebooted it in 1981, and expanded its reach. Today, The Texas Eagle uses double-decker "Superliner" trains, known for their awesome observation rooms. Superliners chug through Texas towns you've likely never heard of—like Joshua, Bartlett, and Blum—and many big cities you have. Three days a week, The Texas Eagle connects in San Antonio with the Sunset Limited, which cruises west to El Paso and on to Los Angeles, California.
"We Are All in This Together…Literally"
This motto, written on the Amtrak Customer Safety Instructions manual, is truer than one might think. Train people are talkers, or maybe they just get extra chatty given the captive audience. On a recent trip, a professor confided about the highs and lows of visiting her Dallas family; a young soldier returning home due to an injury at Fort Hood regaled a rapt dining car with his plan to surprise his mom—she didn't know he was coming home; and an Australian couple explained that Down Under, you see kangaroos out the train window. Onboard, we are all in it together—just riders on the rails.
Breaking Bread
The dining car, with its tradition of community seating, is conversation headquarters. Parties of three or less share a banquette with other travelers. Friendly attendants, mostly based out of Chicago and dressed in smart blue uniforms, take food orders. Try the Land and Sea ($39), a Black Angus flat iron steak with a crab, shrimp, and scallop cake. Warm chocolate cake topped with ice cream, a seasonal dessert, is another winner: The steam drifts off the plate and through the dining car. Community seating means tales are swapped, and conversational lags are good moments to admire the scenery.
Long live the dining car: Dining Cars, an Amtrak institution, have been eliminated on some East Coast routes with more changes anticipated. If you would like to relish the distinct experience of a Texas Eagle dining car, do it now.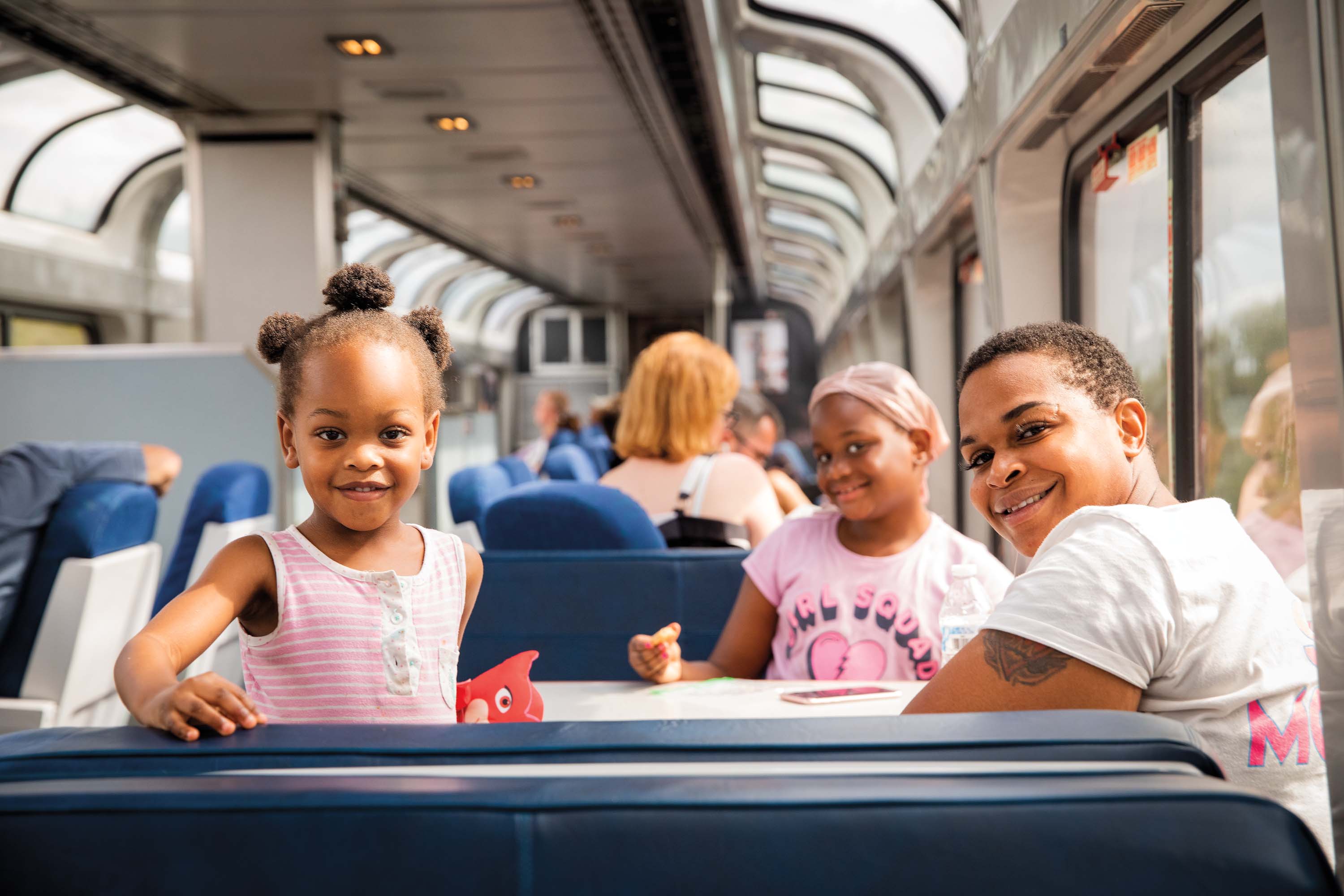 Taking the Scenic Route
The Sightseer Lounge is open to anyone on the Superliner. This cool space-capsule-like area has a midcentury-modern style, featuring retro wood paneling and curved floor-to-ceiling windows. The spacious booths and rows of chairs facing the enormous windows make this a prime spot for daydreaming. With any luck, it will rain, and the drops rolling down the window will add mystique to the landscape passing by. All Sightseer Lounges are on the second floor, but a café/bar with snacks, beer, and other alcoholic and non-alcoholic beverages is just a narrow staircase away, on the lower level.  
The Lingo
Duck Walk
A special walk with feet angled out, hips forward, to help passengers balance against the swaying and bumping of the train. Regular riders use the term frequently, especially when advising first-timers.
Vegan Compliant
The curiously formal way Amtrak lets a passenger know a dish is vegan. For example, on the dinner menu: "vegan compliant" rigatoni pasta with oven roasted vegetables, fruit, and soy sausage.
Roomette
Amtrak for "sleeping car."
Train Tracks
Music is motion, so ever since there were trains, there were songs about trains. Here are some standouts:
It Takes a Lot to Laugh, It Takes a Train to Cry by Bob Dylan
Two Trains by Little Feat
Love in Vain by Robert Johnson
Folsom Prison Blues by Johnny Cash
Homeward Bound by Simon and Garfunkel
Crazy Train by Ozzy Osbourne
Midnight Train to Georgia by Gladys Knight and The Pips
(I Heard That) Lonesome Whistle by Hank Williams
Peace Train by Cat Stevens
Downtown Train by Tom Waits
Casey Jones by The Grateful Dead
19
Amtrak Stations
In Texas, 64 percent of the population lives within 25 miles of a station.
4.5
hours, Austin-Fort Worth
While longer than the drive, riders avoid traffic, and advance tickets are only $24.
47%
How much more energy efficient Amtrak travel is than a car on a per-passenger-mile-basis. 
From the January 2020 issue