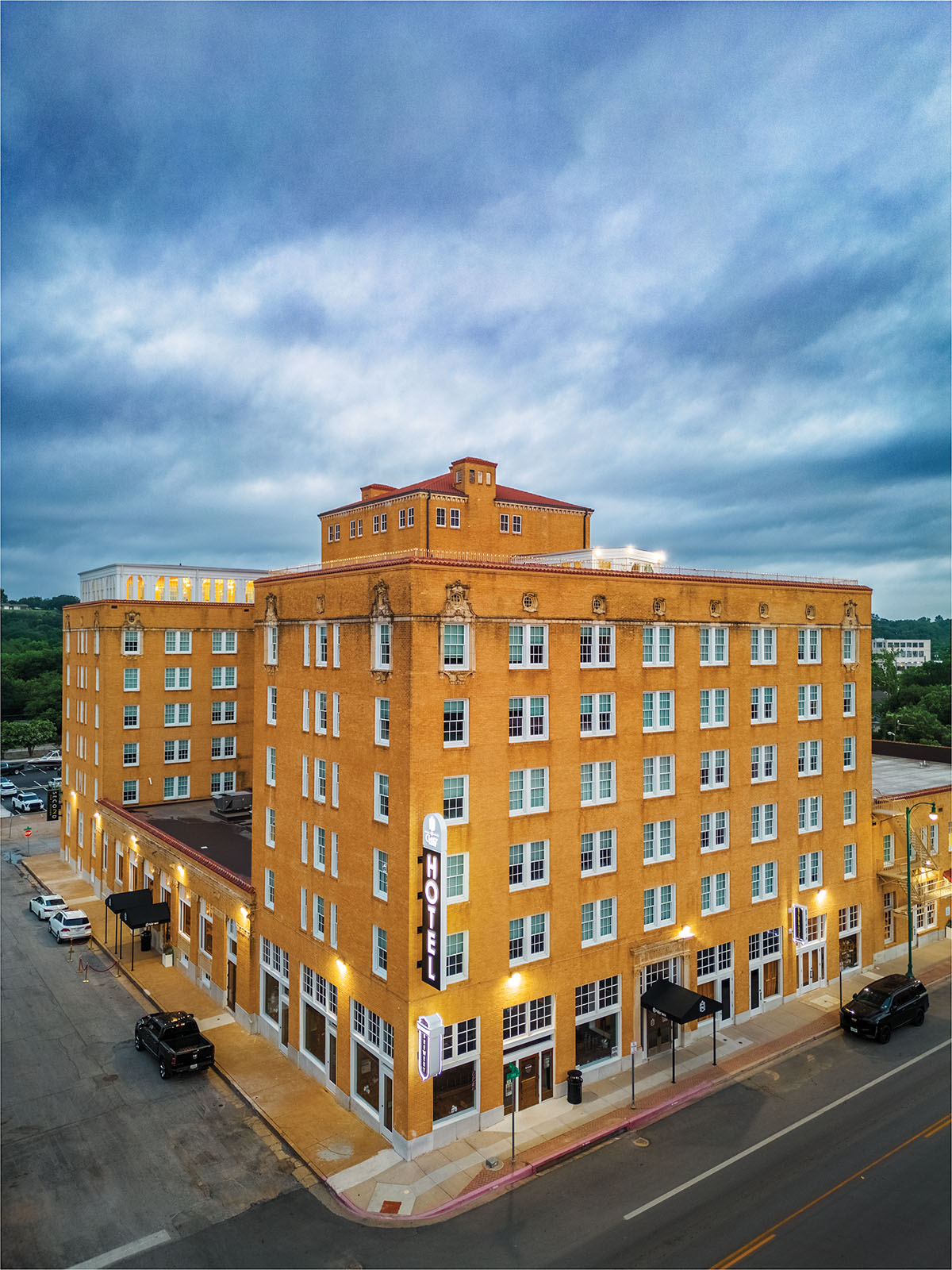 I
follow Heather Myles down the red-carpeted hallway of the Trucountry Inn in Brady, heading to the Bonnie and Clyde room. It's a Saturday night, a party is in full swing in the downstairs ballroom, and the hotel is fully booked. Brady, known as "The Heart of Texas" due to its proximity to the geographic center of the state, is about an hour's drive from the tiny community of Rowena where Bonnie Parker was born in 1910.
Myles, a honky-tonk singer and proprietor of the Trucountry Inn, designed each room of this 1923 hotel with its own theme. She points out the original carved wooden doors and windows. Over the past seven years, she's painstakingly restored the hotel's interior—replumbed it, rewired it, and uncovered and shined its original black-and-white Greek key-patterned tile floors. Before she became a honky-tonk singer, playing with the likes of Dwight Yoakam and her mentor Merle Haggard, she learned how to build a house from her stepdad, who owned a construction company.
TruCountry Inn
202 W. Main St., Brady.
951-966-9828; trucountryinn.com
Rooms start at $60/night.
The Crazy Water Hotel
401 N. Oak Ave., Mineral Wells.
940-325-4605; thecrazywaterhotel.com
Rooms start at $159/night.
The Gardner Hotel and Hostel
311 E. Franklin Ave., El Paso.
915-532-3661; gardnerhotel.com
Rooms start at $45/night;
beds in the hostel start at $25/night.
Myles regales me with local legends from the hotel's renegade past. In its 1930s heyday, it was a gambler's hangout­—someone was shot here over a poker game gone bad—as well as the discreet working quarters of a local madam named Pearl and her courtesans. And, of course, a hideout for Bonnie and Clyde.
"I have no doubt Bonnie and Clyde stayed here more than once," Myles says. "Too many locals have the same stories, passed down from their grandparents." According to what Myles has learned from locals, Bonnie's cousin worked at the hotel as a switchboard operator. When the couple's car broke down near Brady, they called the switchboard and the cousin sent them a cab to bring them to the hotel. "There was a Brady taxi service back then," Myles explains. "Just one lady operated the taxi, and she often boasted about how she dropped off Bonnie and Clyde at this hotel years ago. And they tipped her really good."
Just because it didn't make the newspapers doesn't mean it didn't happen. The Trucountry is but one of many Texas hotels that lay claim to renowned desperados. The Stockyards Hotel in Fort Worth and The Baker—the under-renovation grand hotel of Mineral Wells—both assert that Bonnie and Clyde were their guests. Locals say George "Machine Gun" Kelly, a mobster from Memphis best known for his 1933 kidnapping of Oklahoma oilman Charles Urschel, hid out at The Crazy Water Hotel in Mineral Wells. Bank robber John Dillinger laid low at the Gardner Hotel in El Paso. Bandits don't tend to sign the guest registry, so there aren't paper trails to prove these claims. Stories passed down through generations are often all we have.
"It's hard to go anywhere in small town Texas without somebody claiming that their grandmother was walking down the road, and Bonnie and Clyde drove by and stopped and talked to them," says Fort Worth-based author Jeff Guinn, whose book Go Down Together is considered the gold standard of historical accuracy in Bonnie and Clyde biographies.
"There's a lot of mythology," Guinn says, "but the truth of it is that Bonnie and Clyde did stay in a lot of small communities. And although they preferred staying with isolated farm families when possible, at some point they must have stayed in a few hotels."
Fact or fiction, the legend is strong enough to draw guests to the Trucountry from as far afield as New York and Canada. And some say Bonnie lingers here. The Trucountry, called Hotel Brady at the time of the duo's alleged residency, saw at least one murder—there are bullet holes still in the Gambler's Suite—and several other untimely deaths, making it a draw for ghost hunters. One paranormal expert claims he saw a small female ghost writing poetry and walking down the same long, red-carpeted hallway where I am walking with Myles. "Bonnie was known to be a poet," my guide says. "And very petite."
Many other Depression-era gangsters found refuge in Texas hotels, leaving behind a trail of lore. Phil Garrett, the former attorney for Palo Pinto County and now a self-described local historian in Mineral Wells, says there is no doubt Kelly came through the town. The kidnapper reportedly took refuge at Mineral Wells hotels that once housed celebrities and health-seekers during the town's golden era as a healing waters retreat.
Garrett tells me his coworker's mother, now 90, ran a hotel called the Grande Courts; she remembers clearly that Kelly stayed in room 8. "He'd hid $70,000 of his kidnapping money with a man in Coleman, and the old highway that went through here passes through Coleman," he says. "It is absolutely accepted that he was here in Mineral Wells."
While the Grande Courts are long gone, The Crazy Water is open for business after an extensive face-lift in 2021. There may not be written proof that Kelly took refuge here, but "it's entirely possible," Garrett says. Now, with popular rooftop concerts and a bustling event venue, The Crazy Water seems like the kind of place where a mobster could find a little anonymity.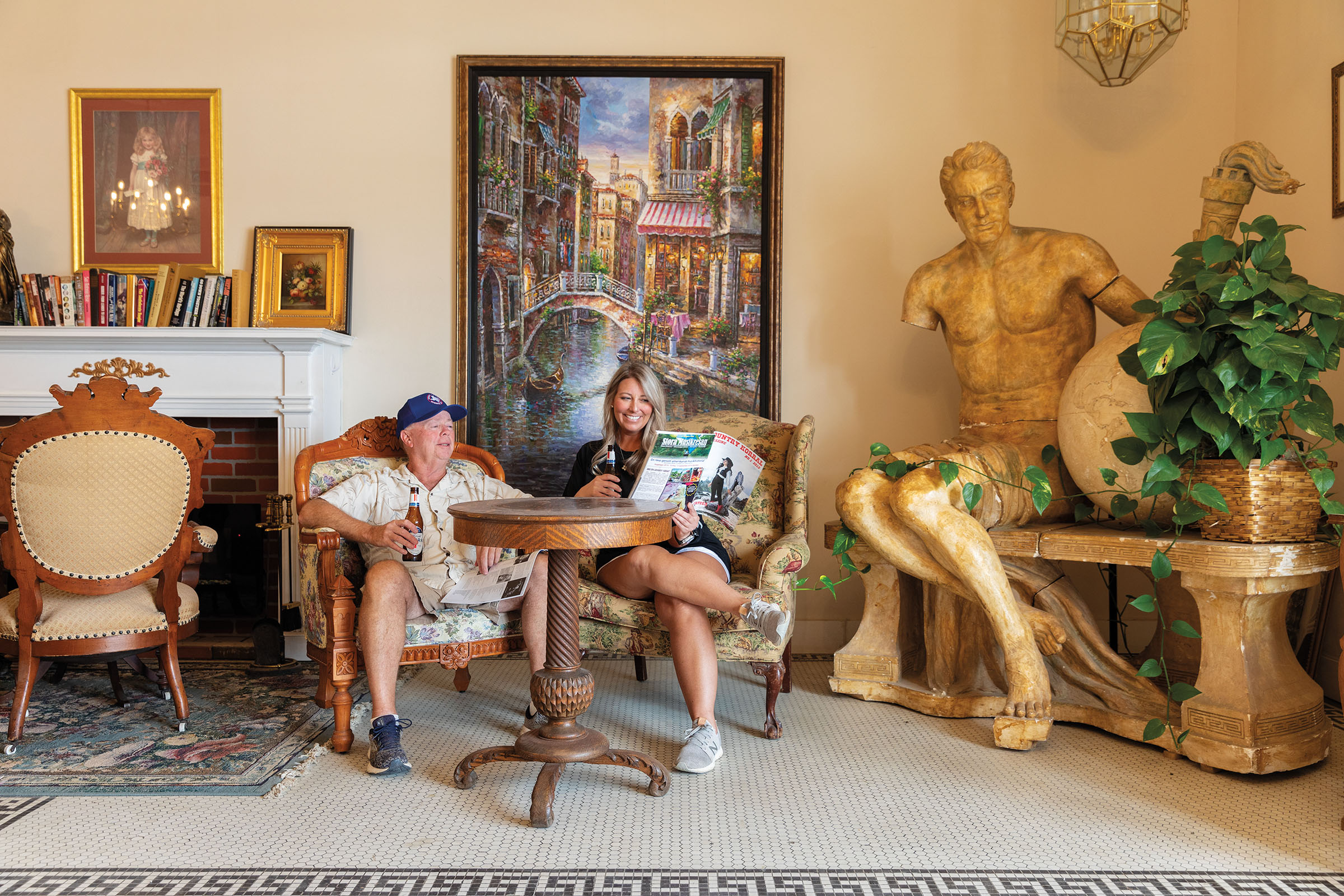 In 1934, a year after Kelly's arrest and just a few months before Bonnie and Clyde were gunned down in Louisiana, Dillinger checked into El Paso's Gardner Hotel and Hostel. The Gardner, opened in 1922, was El Paso's first and now oldest hotel. The Nebhan family bought the hotel in the 1940s and have been running it ever since, ensuring it remains a vital part of El Paso's downtown.
Joe Nebhan, who took over the hotel from his father in 1981, remembers a day in the early '60s when an elderly man walked into the lobby. "When my father asked how he could help him he said, 'I used to work here. I'm the one who carried John Dillinger's luggage upstairs,'" Nebhan recalls. "Well, that was the first we'd heard of that."
That elderly man was Ike Foster, the hotel's bellboy back in January 1934. Foster was quoted in The El Paso Herald-Post on Jan. 31 of that year; he told the paper Dillinger checked in, with a woman, under the alias of James D. Ball and lingered there with members of his gang for days where "they played cards, drank beer, and ate liver sausage all day."
According to Nebhan and the 1934 article, big bad Dillinger was afraid to ride the hotel's new elevator, preferring the staircase—a still-standing marble beauty in the Gardner's 1930s-era lobby. Just as the newspaper reported, Nebhan had also heard Dillinger was accompanied by a female partner in crime. "Dillinger always traveled with women," Nebhan says. "He was a lover and popular with the ladies." Nebhan's one deviation from the newspaper article? "I'm not sure about the liver sausage. I'd heard they were eating sardines."
Some mysteries will never be solved.
From the September 2023 issue