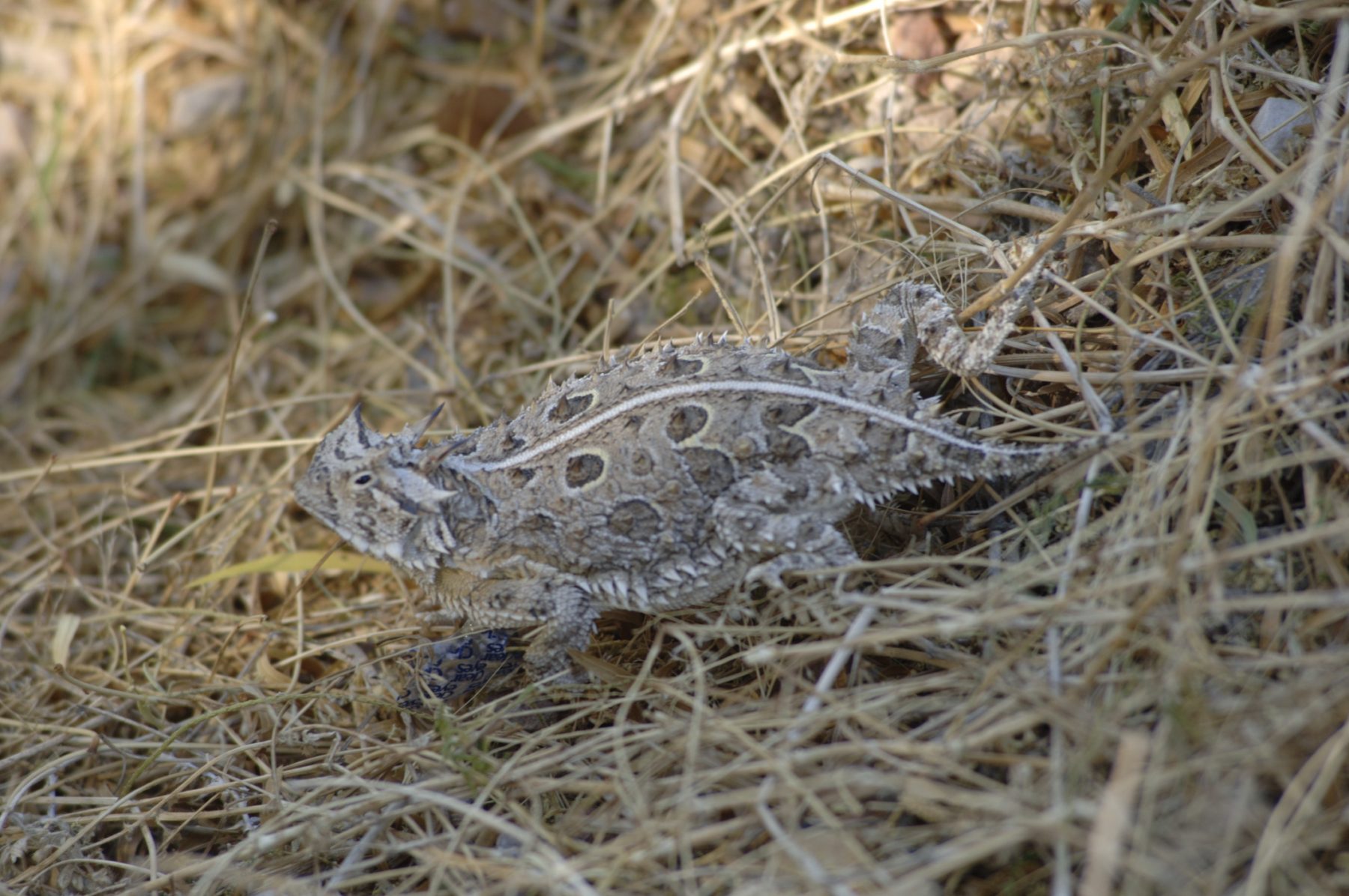 Though bluebonnet season has wilted to a close, the summer is still full of opportunities to see the state's identifying flora and fauna.
To catch a glimpse of the state lizard, the horny toad, venture outdoors. The Texas horned lizard, the most common variety of horny toad, can be found in natural areas across the state, from Pedernales Falls State Park to Brazos Canyon State Park. The round-tailed horned lizard makes its home in more arid regions like Palo Duro Canyon and Big Bend.
For a sure sight of a horny toad, visit Eastland, located between Fort Worth and Abilene. The town is home to Old Rip, an infamous horny toad that spent 31 years in the cornerstone of the old Eastland County courthouse. According to legend, the lizard was discovered alive when construction on a new courthouse began in 1928. Old Rip is now displayed in his coffin at the courthouse.
Despite spring being peak wildflower season, several blooms thrive in the summer heat. Texas has two state shrubs: native Texas purple sage and crape myrtle, which took decorative gardening in Texas by storm after its introduction from China in the mid-1800s.
Texas purple sage grows in abundance at the 360 Bridge Overlook in Austin, where the blooms make a pretty picture along with views of Lake Austin and the Pennybacker Bridge.
Paris, Texas takes special pride as crape myrtle's first home; it was first introduced there by Marlida Maxey, the wife of Confederate General Sam Bell Maxey, in 1857. Paris is known as the Official Crape Myrtle City of Texas.
For sportier sightseeing, the Guadalupe bass, state fish of Texas, can be seen and caught from a stream-side perch. The green spotted fish is found only in Texas, and generally in small fast-flowing streams, making them a challenging and rewarding catch for many anglers.
Guadalupe bass make their home in several large rivers across the state as well, including the Guadalupe River, which runs along the cities of Boerne, Cuero, and Kerrville, and the Colorado River, which runs through Austin and Bay City with numerous tributaries across the state.
Another edible symbol is the Texas Red Grapefruit. Though native to the tropics of Barbados and Jamaica, this citrus thrives in the Rio Grande Valley. Although grapefruit is primarily a winter produce, groves and fruit stands, including Obst Family Farm in Alamo and Klement Grove in McAllen, still offer juicy selections.