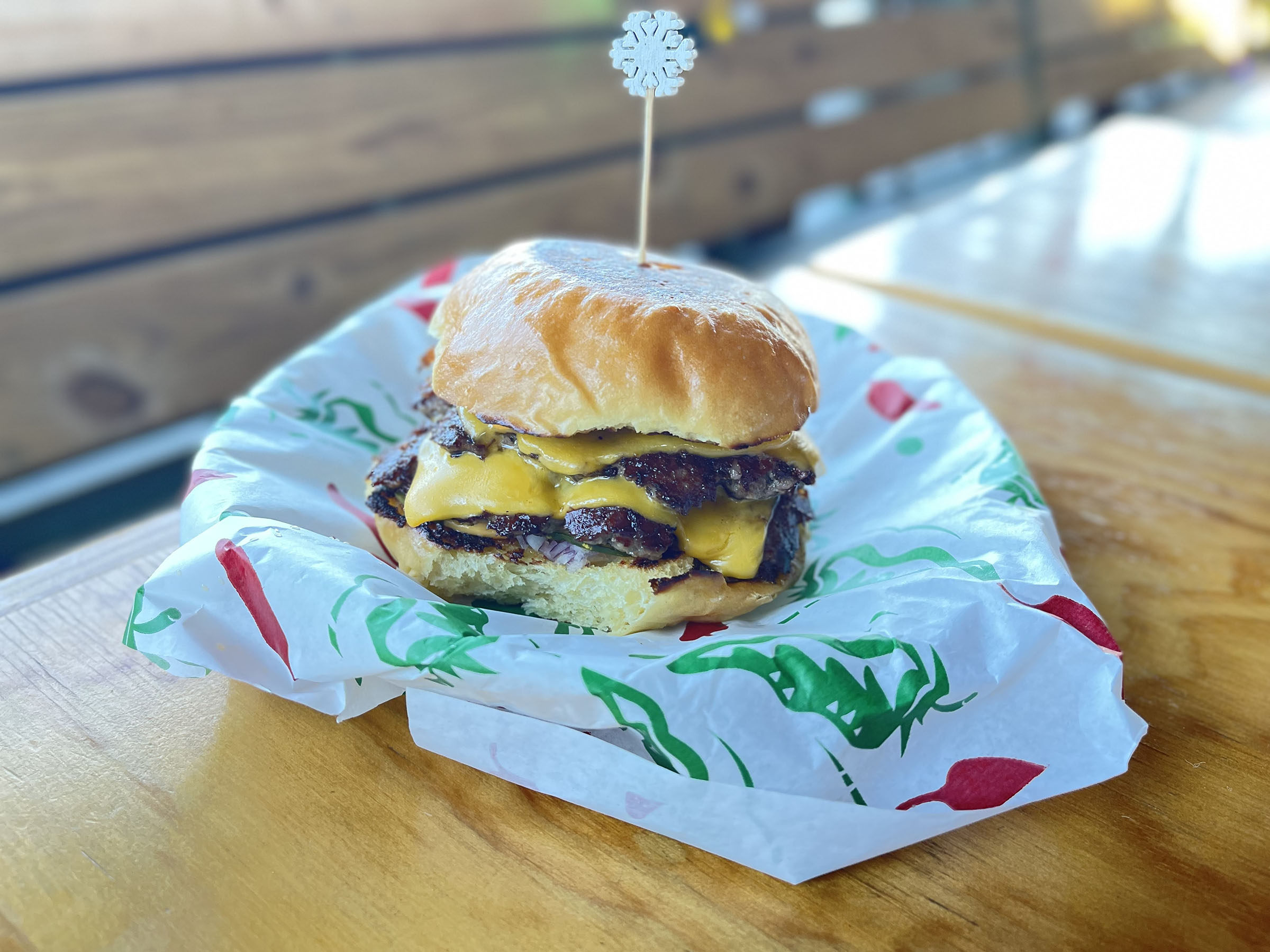 It turns out the burgers I grew up on—smashed burgers—are now the hottest burger trend in the U.S. But I've been a devotee the whole time.  In 2017, I featured an old school smashed burger institution, Carl's Drive-In in my hometown of St. Louis, Missouri, on an episode of Food Network's The Best Thing I Ever Ate. Little did I know then what Texas had in store for me.
A smashed burger is pretty much what the name implies: a hamburger often made of two or more beef patties that develop their shape and thickness during the cooking process. Thin, deep-seared patties are the signature of the smashed burger experience and are achieved when balls of ground beef are pressed down onto a hot griddle. The pressure and sear are so great, the patties must be scrapped off the cooking surface. Some cooks resort to using tools like a paint scraper or putty knife to flip the burgers.
Smashed burgers have roots in the Midwest dating back to the 1930s, thanks to burger institutions like Illinois-based Steak 'n Shake. But they didn't gain national prominence until chains like New York-based Shake Shack and Colorado-based Smashburger came around in 2004 and 2007, respectively. Then around 2017, smashed burger pop-ups became a thing in Los Angeles. New York followed suit, and now the trend has hit Houston hard in the last year. These four places serve outstanding versions.
Trill Burgers
3607 S. Shepherd Dr.
trillburgers.com
Trill Burgers has won awards and graced the stages of Coachella and the popular hip hop festival Rolling Loud. How is this possible when its only existed as a pop-up? Credit goes to hip hop legend and Houston's favorite son, Bun B. One half of the southern rap duo UGK, Bun helms Trill Burgers and arranged for a personal pop-up for me so I could try the burger. "I'm not a chef; I'm a foodie," Bun tells me in the parking lot of his soon-to-be first brick-and-mortar store, located in Montrose in a former James Coney Island drive-thru.
It's one thing to call yourself a foodie, but it's another to launch a food-focused website that's been running for a decade. In 2013, Bun created the website "You Gotta Eat This!" with podcaster and food entrepreneur Premium Pete. "We'd always seek out new places and dishes in the cities we'd travel to," Bun says. "We thought it would be great to start a blog about it, and yougottaeathis.com was born."
Now about the Trill burger that won Good Morning America's nationwide burger cookoff competition, earning Trill Burgers the title "Ultimate Burger Spot." Two smashed patties weighing between 2 and 2.5 ounces are hit with a proprietary burger seasoning, topped with American cheese, grilled onions, jarred pickles, and sandwiched onto a potato bun—with Trill sauce, of course. Well-balanced and hearty, the burger tastes exactly how you hoped it would.
"The Trill was designed to be a singular experience," Bun says. "It wasn't about creating a new burger in and of itself but a new experience from a burger." Southern California restaurateur Andrew Nguyen brought the concept to Bun, who ran with it. "I promoted it like an album," Bun says of his early success.
Once I got the past the great sear and juicy meat, the little details struck me. The grilled onions were sliced as opposed to diced and on the thicker side, more akin to the onions one finds on top of French onion soup. And the American cheese and pickles from a jar exude comfort food familiarity.
That brings me to the Trill sauce. Like every ingredient and detail regarding the burger, the information is top secret, or as Bun calls it, "Coca-Cola tradecraft." It seems like it's Thousand Island dressing, but Bun said there is no relish. Diced pickles? Maybe some Worcestershire sauce? I've made some variant of Thousand Island dressing for burgers for years, and I can tell you they went to town in developing a burger sauce I'm comfortable calling the best I've ever had.
I asked Bun what sets his burger apart considering that it's heavily influenced by "a big trend in California," according to co-owner Nguyen. "It's the trillness that sets the burger apart," Bun says. The word "trill," coined by Bun and fellow Houston rapper Paul Wall, is slang for being true or real. It might not mean much if you're not into hip-hop culture, but Houston very much is.
Whatever moves you, the vibe or the best smashed burger sauce I have ever had, keep an eye out on Trill Burgers' Instagram account for news of the official opening. My hunch is the drive-thru is going to be packed on day one. Until then, catch Trill Burgers at the Houston Rodeo, where Bun debuted his burger for the masses in 2022.
Burger-Chan
5353 W. Alabama St. Ste. 110
burgerchanhtx.com; 832-408-0860
Willet Feng's resume reads like an opening of the Netflix docuseries Chef's Table. After graduating from the Texas Culinary School with a perfect GPA, Willet worked in fine dining with an emphasis on sushi, became a personal chef for former Houston Rocket Tracy McGrady, and served as chef at The Grumpy Pig in Shanghai, China. With credentials like that, I probably shouldn't have been surprised that the burger I had at Burger-Chan was the most intriguing burger I have had in the last 20 years.
In 2016, Willet and his wife, Diane Feng, opened Burger-Chan. The key to the experience is letting the tare do the talking. Tare (pronounced tah-reh) is a signature seasoning that's applied during the cooking process. It blew me away.
"The tare started off with me remembering a steak dish at Uchiko that was basted in butter and soy," Diane says. Needing more complexity, Willet landed on the current mix of soy sauce, garlic confit, brown butter, dried shiitake mushrooms, and Worcestershire sauce. Tare is basically an umami bomb of flavor worthy of being drizzled over a dry-aged ribeye for two. Willet pours it over a 2- or 5-ounce smashed burger patty from 44 Farms in Cameron. I'll take that over a steak any day.
If you don't take my lead, you might have your work cut out for you when you order at Burger-Chan. With multiple types of proteins, buns, and nearly 40 toppings, it's easy to cover up what the tare does. That's what happened to me with the Spicy !!! burger, which left me in a sweaty stupor from its combination of charred and pickled jalapeños, serrano peppers, ghost pepper flakes, and house-made mayo derived from sambal belacan, which is a southeast Asian condiment that is spicy and contains fermented shrimp paste.
Despite Willet's desire for people to "have the option to build a meal as unique as they are," I leaned upon the chef and asked for the best way to experience the tare. He suggested the Swiss mushroom burger. The mushrooms help emphasize the dried shiitake powder, creating layer after layer of savory flavor. And the house-made scallion aioli adds a welcome hit of garlic and fat to the equation.
Burger Bodega
4520 Washington Ave.
burgerbodega.com; 346-293-8909
Abbas Dhanani was destined to bring smashed burgers to Houston. Like Bun B, he saw the wave of smashed burgers coming in from both coasts and opened Burger Bodega last year. Dhanani had done heavy research in Los Angeles and New York, citing restaurants like Burgers Never Say Die, Goldburger, and Amboy as places of inspiration. "Burgers Never Say Die made me reminiscent of my classic childhood fast-food burger," Dhanani says. "Goldburger was exceptional. The quality of the beef and the beef-to-fat ratio set it apart."
Dhanani has been covering the Houston food scene at Houston Eatz since 2011. He comes from a family who knows the restaurant and fast-food space like few others. His dad and his five uncles combine to own 1000 franchises, among them Burger King, Wendy's, Sonic, Popeyes, Dairy Queen, La Madeleine, and local Mexican restaurant chain Cyclone Anaya's.
The insight with fast food was particularly helpful for someone starting an independent burger operation. I ask Dhanani what the most important thing his dad and uncles taught him was, and he says, "Take care of your people."
Dhanani nails the ratio of sear to juiciness. His 2.5-ounce patty might be the sweet spot in terms of size, and the beef comes from a steakhouse favorite of mine: Kansas-based Creekstone Farms. The lightly sautéed white onions were a nice break from the effective but popular choice of caramelized onions. American cheese makes an appearance to keep things classic, along with a mayo-and-ketchup-based Thousand Island variant. Then the firm texture of in-house pickles—brined for 24 hours—kicks in to keep the experience from slipping into "just another smashed burger."
The last bite featured a bottom bun noticeably soaked with rendered beef fat. This was one of those eating moments where I quietly said to myself, "God is in the details." Then I decided to eat another burger.
The Toasted Coconut
1617 Richmond Ave.
gettoastedhtx.com; 713-485-4775
Modeled after Tiki bar culture and what Chef Martin Stayer calls "inspiration from the 29th parallel," Toasted Coconut is Stayer's second restaurant in Houston. "My wife and I love beaches," he says. "And my wife and I love Tiki bars." Stayer's resume includes a decade in Chicago doing fine dining as well as running Houston-based Nobie's, selected as Restaurant of the Year at CultureMap's 2021 Tastemaker Awards. Stayer seems like the kind of guy who will go the extra mile when it comes to a smashed burger.
Spoiler alert: He does, but smartly doesn't let any of his fine dining skills get in the way of the simple charms of a smashed burger. Toasted Coconut's World Famous Cheeseburger features two 3-ounce 44 Farms patties; a house-made bun; sharp American cheese; house-made dill pickles; house-made chili aioli, which combines Duke's mayonnaise with chipotle in adobo, guajillo, and pasilla powder; garlic; and a red onion brunoise. If you happen to be unfamiliar with the term like I was, Stayer enlightened me: "It's a really fine dice." I said he would go the extra mile.
"The best cheeseburgers have a gooey factor—the beef, the cheese, the sauce," Stayer says. "You want your burger to taste of beef, and the bread has to be special." Stayer makes his own Hawaiian bun, adding pineapple juice and a touch of brown sugar to all-purpose flour, with a bit of potato flour for softness. The bun is exceptional. It's also a requirement, as this burger, weighing in at 6 ounces, was the heftiest of the lot.
The result is a well-balanced smashed burger that benefits from the sweetness of the Hawaiian bun and the smoky kick of the aioli. One might think eating four smashed burgers in 30 hours would get old. For those who do, I suggest heading to Houston, where the smashed burger game makes such burger mania wholly reasonable, perhaps completely necessary.