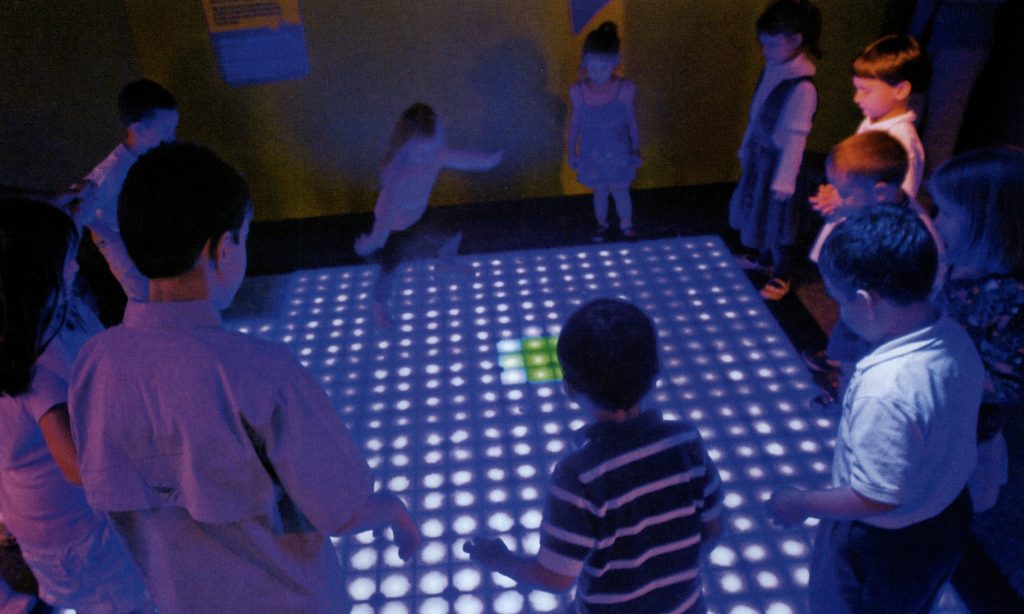 AS A MOTHER OF TWO YOUNG children, I'm always on the lookout for activities that combine play-time with disguised education. And I have discovered the mother lode of smart play in the 90,000 square feet that comprise the Children's Museum of Houston. I recently rounded up some willing companions (my five-year-old son and two-year-old daughter) and made a beeline for the three stories of mind-exercising, sweat-inducing fun that comprise this marvel of a museum.
The museum possesses a sense of charm and whimsy that sets it apart from its neighbors in Houston's Museum Dis trict. The building itself-designed by architect Robert Venturi, who coined the maxim "Less is a bore"-is a jumble of soaring spaces, primary colors, and intriguing angles. It's hard to maintain a facade of maturity once inside this youthful wonderland. The museum's Director of Education, Cheryl McCallum, takes pride in the museum's appeal to adults and children alike. "I am proudest when I walk through the exhibits and see families from every walk of life learning together and having a great time," she says.
Though my kids and I want to dive right in, we stop first at the information desk to pick up a map. Thanks to a recent renovation that doubled its size, this wild maze of a museum can send your inner navigator spinning in two shakes of a lamb's tail.
Our second stop: the Kids' Hall, where museum staff and volunteers present educational games and crafts, from puppet-making to tic-tac-toe. The top-hat-clad magicians here fascinate my children with coin tricks and lessons in the art of illusion. But soon the kids are drawn as if by some magnetic force to the museum's piece de resistance, a sprawling hub of physical exertion called Power Play.
A three-story, climbing structure called the Power Tower dominates this area. In this sea of suspended nets, steel bars, pounding music, and flashing lights, participants track their heart rates through a variety of physical challenges. Children dash about whooping and shrieking, testing their strength, flexibility, and endurance. My energetic tykes race around an attraction called the Light Chase, trying to dodge the flashing green, blue, and yellow lights that flicker across a translucent mat. Other little daredevils head to the Adventure Course to scale walls, navigate a tunnel, and scurry across a rope bridge. And then, we move on to the pretend-play city of Kidtropolis. Other little daredevils scale walls, navigate a tunnel, and scurry across a rope bridge.
As the name implies, Kidtropolis is a miniature model of a working town, complete with an array of businesses, including a veterinary clinic and a stock market. I relax awhile in the Diner, where my kids busy themselves in the restaurant-style kitchen. Miniature waiters and waitresses bustle about, pencils and paper pads in hand, taking orders and servingup heaping (plastic) helpings of everything from pizza and chicken drumsticks to ice cream. I love that the crowd of adults feels compelled to mock-munch their faux feasts, even when the kids have turned their backs.
Just across the way from Kidtropolis resides the H-E-B Market, which bears little resemblance to the play-grocer of yesteryear. This upgraded version of the perennial favorite caters to sophisticated consumers with selections like pomegranate green tea and Thai red-curry noodles. My kids fill their baskets with all the sugary treats that I so cruelly deny them at home.
Next, we find an elevator and descend to the basement, w here spinning gears and a quote by Thomas Edison-"To invent, you need a good imagination and a pile of junk"-set the mood for a warehouse-style space called the Invention Convention. The adults here seem just as giddy as the children. In one area, visitors work together to build a LEGO vehicle with enough strength to race down a mountain of a track and emerge intact from the spectacular vertical drop. In another area called the Launch Cage, participants assemble and test the aerodynamics of
handcrafted rockets using simple materials such as plastic water bottles and construction paper.
"Adults really get into the Invention Convention exhibit," McCallum says. "Many of the things in that exhibit they have never had the chance to do before. I've seen kids and parents work together to make air-propelled stomp rockets, then compete to see which rocket flies the farthest." While the nonstop action feels exhilarating, I can only take so much of it at once. When I begin to crave a break, I head for one of the spots at CMH that I've dubbed "tranquility bases." These calmer areas of the museum allow me to slow the pace and gather my wits. My favorite is EcoStation, a light-filled cottage surrounded by native plants, which sits just outside the main building. Here, visitors can observe freshly hatched baby chicks in all their downy glory or watch turtles glide through a serene pond. Tools such as a microscope and a solar wheel promote in-depth environmental investigation.
Finally, the cool waters of FlowWorks beckon us outside. This water-play area overflows with splash buckets, spray guns, and a nifty area called the Boatyard, where children assemble and race their own boats. When my children look sufficiently exhausted, I decide that it's as good a time as any to call it a day.
As we exit the world of whimsy and set foot onto the sidewalk of reality, I calm my forlorn companions with the promise of future CMH playtime. I'm looking forward to it myself.
From the February 2010 issue