A few years ago, Anne Brown had an idea. As the executive director of Texas Parks and Wildlife Foundation, she started contemplating the centennial of the Texas State Parks system in 2023 and how the organization could celebrate it. She thought about the dance hall at Garner State Park.
"Tons of Texans have danced there over the years," Brown says, calling me from her car as she sped along to Marfa, itself located in one of Texas' greatest regions for the outdoors, for a few days. "We thought about the history of state parks and the intersection of parks and another thing Texas is known for: music."
Wild spaces, wild sounds? This could be interesting.
Soon, a plan was in place for a tribute album to honor the 100th anniversary of Texas State Parks and the wild spaces in Texas. Calling it Texas Wild, the album features well-known and not-as-well-known Texas musicians covering classic and soon-to-be-classic Texas tunes. Vinyl copies of the album come out this fall, but today music fans get a preview with the release of the first single, "(Hey Baby) Que Paso" by Fat Tony featuring Paul Wall. The song is a hip-hop take on the classic by San Antonio's Augie Meyers and Sir Douglas Quintet. (Meyers would go on to record a hit version with the Tex-Mex supergroup Texas Tornados.)
Other tracks on Texas Wild include bangers such as Shane Smith and The Saints' featuring Hayes Carll doing Townes Van Zandt's inscrutable classic "Pancho and Lefty" and Luna Luna doing Selena's "Si Una Vez." Ryan Bingham takes a swing at the Toadies' "Possum Kingdom," while the Toadies try out Kelly Clarkson's "Since You've Been Gone" (good luck with the absolute bazooka that is that chorus).
Texas illustrator Mishka Westell created art for the album cover and singles and used Texas wildlife for inspiration. Sales from the album will benefit Texas Parks and Wildlife Foundation.
The person charged with putting the whole thing together is Austin-based singer-songwriter Walker Lukens, known for such projects as The Song Confessional podcast and musical outfits like Golden Dawn Arkestra, Darkbird and Coco Zandi.
"The artists on this album grew up on this music," Lukens says. "I was stoked because when you are making a record, the single hardest thing to do is making sure all the songs are good." The nice thing about making a tribute album is, well, you are starting with great songs.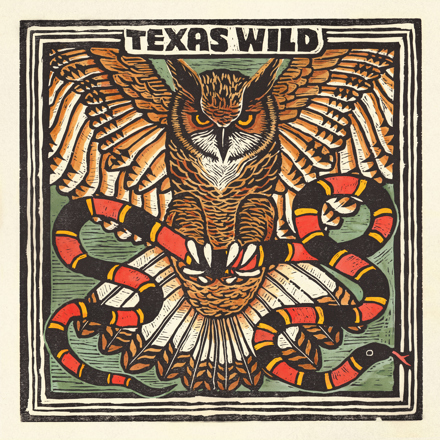 Then it was just a matter of reaching out to artists and finding different songs and arrangements that worked well together, with Lukens acting as a true old school producer, calling lots of musical shots.
Which brings us back to the lead single, Houston hip-hop artists Fat Tony and Paul Wall doing "(Hey Baby) Que Paso." Lukens jokes that he has had a "love-hate relationship with that song"—one does tend to hear it a lot when one works in Texas music—but he thought it might be fun to start with such a sturdy and simple song, reinterpreting it as a soul track of sorts. Players include members of Grupo Fantasma, the Texas Gentlemen, and Sir Woman, with verses from Fat Tony and Paul Wall.
Elsewhere on the album, Shakey Graves and Jess Williamson reinterpret the late, great Daniel Johnston's outsider classic "True Love Will Find You in the End," turning the tune into a piece of slow-burn Americana, a pedal-steel-driven ballad perfect for that last dance. (Frankly, it wouldn't surprise me if an enterprising music supervisor parks this number into a poignant scene in a show sometime in the future—it would be perfect).
The most startling track might be Adrian Quesada featuring US and the Soul Supporters doing Destiny's Child's "Say My Name." It's a passionate musical argument for translating electronic R&B into the old school kind; the track has bits of the '70s, '80s, and '90s, but sounds like it could only have happened now. Such is the nature of Texas music. Then again, Texas State Parks are lucky to have such thoughtful musicians who love the great outdoors. Such is the nature of Texans.
A full list of tracks has yet to be released but here are some of the songs that will be on the album.
Fat Tony featuring Paul Wall: "(Hey Baby) Que Paso"
Original Track: Sir Douglas Quintet
The Texas Gentlemen: "(That's Right) You're Not From Texas"
Original Track: Lyle Lovett
Shane Smith and The Saints featuring Hayes Carll: "Pancho and Lefty"
Original Track: Townes Van Zandt
LUNA LUNA: "Si Una Vez"
Original Track: Selena Quintanilla
Ryan Bingham : "Possum Kingdom"
Original Track: The Toadies
The Suffers: "My Maria"
Original Track: B.W. Stevenson
Shakey Graves featuring Jess Williamson: "True Love Will Find You In The End"
Original Track: Daniel Johnston
Sir Woman featuring Ray Wylie Hubbard: "Texas Sun"
Original Track: Khruangbin and Leon Bridges
Adrian Quesada featuring US and The Soul Supporters: "Say My Name"
Original Track: Destiny's Child
Sarah Jaffe: "Flying Too Close To The Ground"
Original Track: Willie Nelson
The Toadies: "Since You've Been Gone"
Original Track: Kelly Clarkson