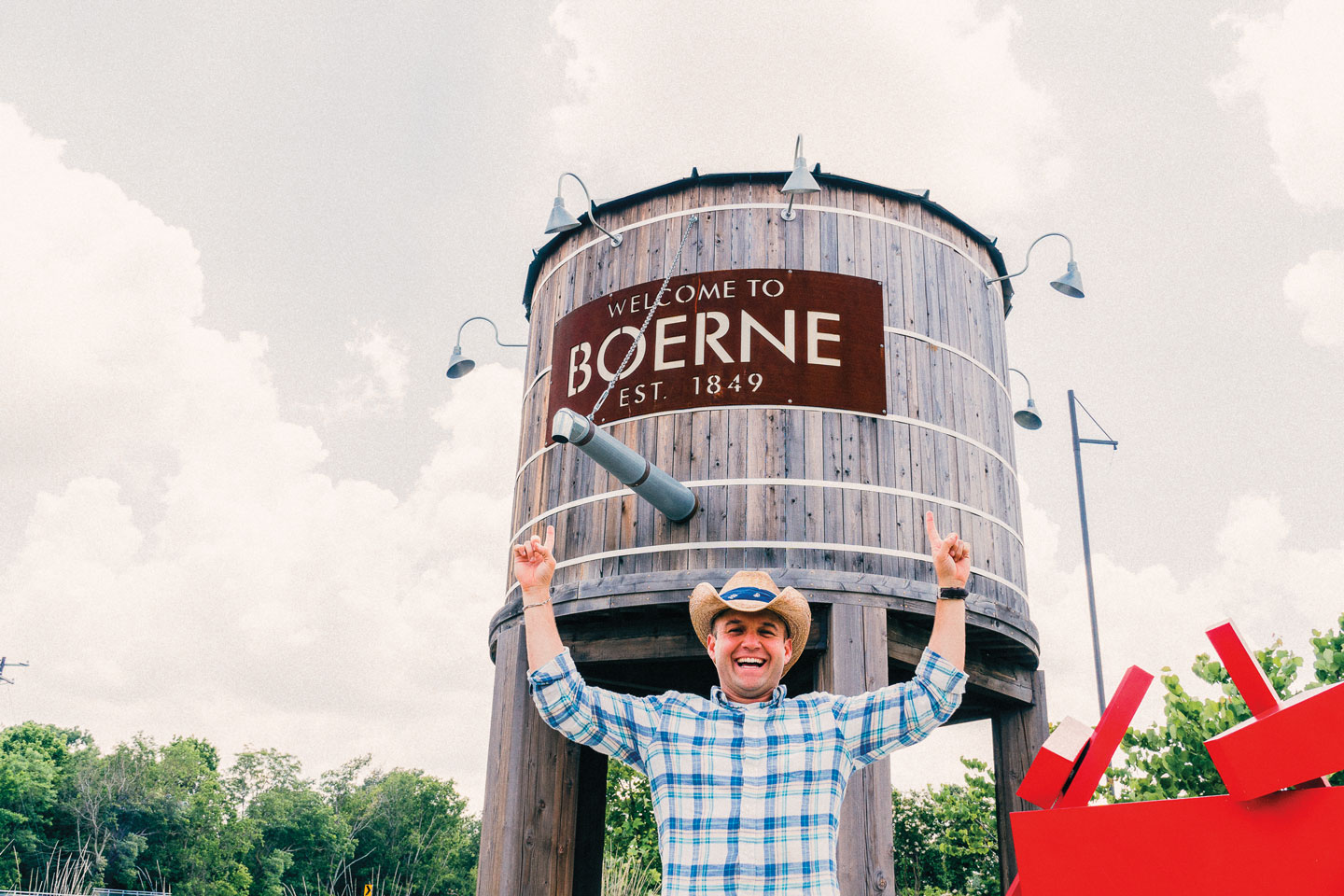 The German heritage of the Hill Country is well-known when it comes to towns like Fredericksburg and New Braunfels. But sprinkled throughout the rolling hills are a number of smaller burgs that carry a similar and just-as-interesting cultural history. Take Boerne, northwest of San Antonio, for example, which makes for an excellent day trip destination. Just don't pronounce it "Bo-Urn."
Contact the Boerne Visitor's Center at 830-249-7277; visitboerne.org
9 a.m. Even though I was in search of German attractions, I couldn't pass up a little Tex-Mex, so I joined the crowded line at Mary's Tacos. Upon recommendation, I ordered the "Macho Sean's," a monster of a taco too big to fit in one hand. After just one bite, I found nirvana in the form of eggs, beans, cheese, and bacon all wrapped in a homemade tortilla.
10 a.m. Next up, I headed to Hauptstrasse, which is German for "Main Street." Among the blocks of historic buildings, I found dozens of local shops, selling everything from Native American jewelry at Sun of a Brave to holiday decorations at The Christmas Shoppe. I perused Carousel Antiques while munching on some locally made Fickle Pickles, which shares the storefront. Their pickles were so addicting that I bought three jars for the road. Needing something to balance out the brine, I visited Soda Pops and Sugar Shack, a retro diner filled with vintage arcade games. It's also the best place in town for a peanut butter-banana milkshake. The wall of vintage candies was the cherry on top of my Main Street visit.
Chet Garner is the host of The Daytripper® travel show on PBS. To view the Palestine episode visit thedaytripper.com
noon I walked a few blocks and found myself strolling along Cibolo Creek, which first attracted Germans to the area. River Road Park was full of folks enjoying the sunshine, fishing, and feeding the 5,678 turtles in the water. OK, maybe it wasn't exactly that many, but it looked close. The park's hungry ducks looked longingly at me—but I didn't have any food.
1 p.m. Running for my life from the persistent quacks, I ducked into the The Dodging Duck Brewhaus and found myself in a laid-back brew pub with a menu full of burgers and German sausages. I ordered a bratwurst and venison sausage plate, which hit the spot, especially with my house-brewed Mosaic Mallard IPA.
2:30 p.m. Next, I headed to the Cibolo Nature Center, which is 2 miles from downtown but feels far from civilization. Inside this 100-acre preserve are flowing streams, rolling grasslands, wooded forests, and a marshy swamp. I kicked off my boots and waded into the crystal-clear waters of the creek, wishing that I'd brought my hammock for an afternoon nap. Then I explored the connected Herff Farm homestead, one of the first and most significant houses built in the area, and imagined myself as a frontiersman living on the land.
4 p.m. Some of Boerne's best adventures are actually underground, so I visited Cascade Caverns and trekked deep into the heart of Texas. We followed the guide through tight corridors and explored room after room of amazing formations; some even had 70-foot ceilings. I can only imagine how the first explorers felt seeing the bones of saber-toothed cats and prehistoric bison that were discovered here.
6 p.m. After a day full of dodging ducks, eating pickles, and exploring caves, I needed a dinner just as diverse. I found the perfect mix at Random, an ever-evolving food truck park located in a beer garden with 80-plus taps. Instead of choosing just one truck, I opted for a smorgasbord of dishes, including a lobster roll, picadillo tacos, and red beans and rice.
As the sun set over Boerne Lake, I grabbed a set of washers and challenged a local kid to a duel. While I had come in search of German culture, I discovered so much more in this fascinating town. So whether you follow my footsteps or forge your own path, I hope to see you on the road.
From the April 2018 issue