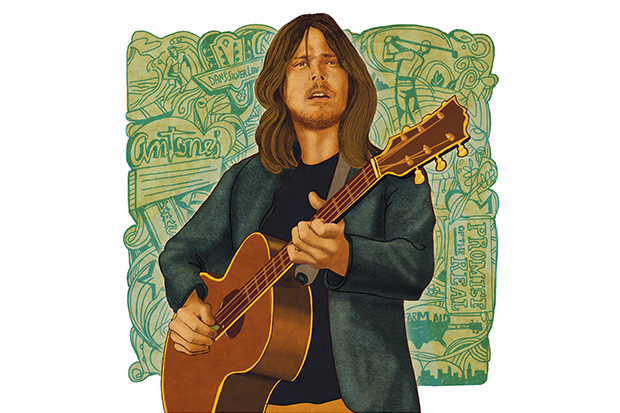 Lukas Nelson comes by his success honestly; never mind that his father happens to be one of Texas' most beloved musicians. The son of Willie Nelson and Annie D'Angelo, Lukas grew up just outside of Austin in Spicewood before moving to Maui, Hawaii, at age 10. He picked up the guitar at age 11, and by 13 was joining his father on stage for performances.
Lukas Nelson

Find Lukas Nelson news and tour dates at lukasnelson.com.
When it came time for college in 2007, Lukas moved to Los Angeles, where he met drummer Anthony LoGerfo at a Neil Young concert. The two bonded over surfing and rock 'n' roll, leading to the formation of Lukas Nelson & Promise of the Real. (The band's name derives from a lyric in the Young song "Walk On.") The band has been working ever since, playing about 200 shows a year and releasing four studio albums, most recently 2017's eponymous LP.
With Promise of the Real, Lukas occasionally shares bills with Willie, and when schedules permit, he still plays guitar with his dad's Family Band. Those two worlds overlap in one of Promise of the Real's most memorable songs—"Forget About Georgia"—Lukas' lament about a lost love, a memory he's forced to confront regularly when he and his dad play the crowd favorite "Georgia on My Mind." Another highlight from the album is "Just Outside of Austin," featuring Willie on guitar and Lukas' aunt Bobbi Nelson on piano.
"Trying to tell a good story without using too many words, you know, that's all songwriting is."
The Nelsons' affiliation with Farm Aid led to another musical collaboration for Lukas, this one with Neil Young. After seeing Promise of the Real perform one of his songs, Young befriended the band, which led to the band recording three albums with Young and serving as his touring band. Also in 2017, Lukas collaborated with his father and brother, Micah, on Willie and the Boys, an album that features the trio singing classic country songs.
Though he embraces the heritage and influences of Willie and Neil, the 29-year-old Lukas carries the torch of country and rock with originality, creating his own soulful sound. Promise of the Real's high-powered live shows have made the band a hot draw for music festivals across the nation, including last October's Austin City Limits Music Fest. And 2018 has already seen Lukas and the band ring in the new year in Austin with Willie, hit the recording studio for work on a new album (due out by year's end), and tour the United States before heading to Europe and Australia in March.
Q: What's the difference between playing a big festival versus a smaller venue?
A: I think it's important to play all types of places of course, and I like the small intimate ones, but it's nice to play for the crowds at big festivals because they may never have heard of you. You have a chance to just shoot your music out over a large area, and then people have a chance to hear and say, "Oh, what's that?" Then they can come and listen. People are wandering everywhere. So even if they've never heard of you, they can come and listen and find out about new artists, which is great.
Q: What are some of your favorite venues to play in Texas?
A: I play Antone's in Austin. We play that place, sell it out. I like Austin, it's a nice place. There are some great spots all around Texas. We used to play in Denton, a place called Dan's Silver Leaf, which was great, a nice little venue. But you know we're all over the country, and when we come into Texas we usually play Houston or Dallas or Austin.
Q: What do you do to make the most of downtime on the road?
A: I write a lot. I play golf when I can. We were just playing in a place called Bluebonnet Hill in Austin. It's a beautiful place, just a nice little course. Of course there's this place in Austin, Lions Municipal Golf Course, that we're trying to save because UT is trying to make it into housing or something. So I'm trying to band together with a bunch of folks, and there's a big initiative to save that course because it's a historical landmark. So I like to play little golf courses around; it keeps me grounded. And then I like to surf as well. If I find some ocean nearby, I go out surfing. That's my other hobby.
Q: What have you learned from your dad about how to approach performing and touring?
A: I learned how to take care of myself on the road, I learned about practicing, I learned how to be in the band. I learned just the tricks of the trade in terms of stealing as much as you can from the green rooms afterwards and getting your water and staying hydrated. Just little things here and there you pick up.
"Success is in the handling of life. It's not what happens to you, it's how you handle it."
Q: What did you learn from Willie about songwriting?
A: I picked up a lot, but I feel like songwriting is one thing though that I can do just as well as anybody. That's one thing I really feel confident in. I mean, I'm a good guitar player, not the best guitar player in the world by far, but I've learned that simplicity is really important. And that applies to everything in life. "Less is more" is a concept that I'm kind of learning as I get older, in guitar playing and lyrically. Trying to tell a good story without using too many words, you know, that's all songwriting is.
Q: Who are some of your favorite Texas artists or musicians?
A: Dad is probably my favorite. Stevie Ray Vaughan is another of my favorites.
Q: How does it feel to see the success of the latest record?
A: Well, I've been working for 10 years on this project and this band. And it does seem to be doing better. This record seems to be getting a lot of great attention, and I'm happy about that.
Q: What has Willie taught you about handling success?
A: That's more from osmosis, just from watching him handle success throughout the years. Success is in the handling of life. It's not what happens to you, it's how you handle it. That's what success is to me. Success isn't just making a bunch of money or having a hit record or whatever. It's how do you stay grounded and turn that into inner growth as well.
Q: What's next?
A: We just did this movie, A Star is Born [set for release May 18], with Bradley Cooper and Lady Gaga. I wrote a bunch of the music for it, the band played most of the music on the record, and then we are acting in it as well. And I consulted with Bradley on how to look like a rock star in that movie. So, we've got a lot of irons in the fire.
From the March 2018 issue