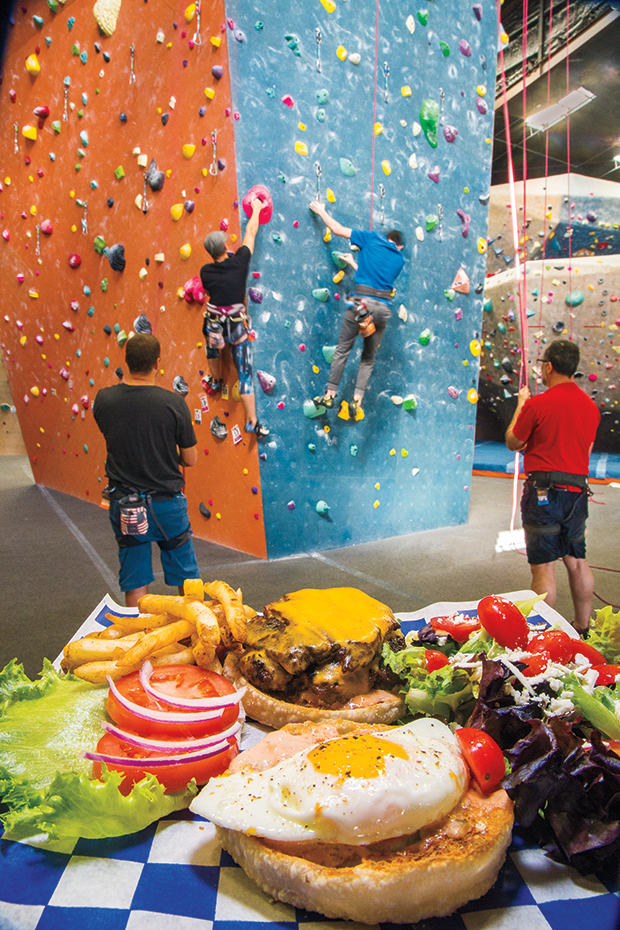 Texas has a score of rock-climbing gyms, but only one boasts an eatery that has earned kudos for its food on a national level. The 5.ATE Café, tucked inside InSPIRE Rock Indoor Climbing and Team Building Center in Spring, just north of Houston, opened in December of 2013. Initially, InSPIRE attracted attention for the height and scale of its climbing walls, which stretch as tall as 43 feet and span about 17,000 square feet. But it soon gained recognition for its café as well, named for a climbing-route difficulty rating of 5.8 (a beginner-level ascent). Whereas most other gyms offer packaged snacks or smoothies, InSPIRE's 5.ATE Café features a full menu for a proper sit-down meal. Plus, its open eating area, in view of the action on the climbing walls, provides a dining experience like none other in the state. Determined to find out what all the fuss was about, I drove out to Spring to see if the café lived up to its reputation—and to try my skills at rock-climbing.
The 5.ATE Café at InSPIRE Rock is at 403 E. Louetta Road in Spring. Call 281/288-7625.
Opening a café in a gym was an unusual move, but for owner Paul Short it made sense: "I love the climbing community, and one of the ways I wanted to foster that community is through the café. People think climbers are all health-conscious, but in my experience they are more the burgers-and-pizza type. They burn a lot of calories, and they consume a lot of calories." He tapped his brother-in-law, Charlie Williams, to operate the café and create the menu. An avid amateur chef, Williams wanted to focus on Neapolitan-style pizzas, inspired by his travels to Naples while serving in the Navy. However, the burger soon became a favorite among regulars, encouraging him to develop more burger options.
Today, the café serves at least eight different burgers daily, all made with crispy pressed patties and served on house-made English-muffin-style buns that soak up the juices. Among the inventive offerings are a garlic-butter burger with sautéed kale and truffle salt; a loaded "sweet and smoky" burger accompanied by arugula, sweet-potato tots, and Sriracha mayonnaise; and a "farmhouse" burger topped with cheddar cheese, pork belly, and a fried egg. Those seeking vegan, wheat-free, and low-carb options will find veggie patties, gluten-free buns, and lettuce wraps.
In 2016 the website Yelp ranked the 5.ATE Café seventh out of the top 10 best burgers nationwide based on reviews—the only Texas spot included on the list. National Geographic published these results in May of that year in an article titled "The Best Burgers in America: A Definitive Guide," and word quickly spread. Short confesses that the hype generated by the café caught him by surprise. People flocked to the gym at lunchtime, eager to try the touted burgers. To accommodate the growing number of guests, Short expanded seating capacity from 30 to 50. He notes with some bemusement, "The café brings in a lunch crowd with no interest in climbing. If I ask them if they want to try it, they'll say, 'Heck no!' But in the evening, when families and other climbers are here, they have fun climbing and then enjoy good made-from-scratch food."
In addition to burgers, the café caters to diverse tastes with selections that include a hummus plate, a caprese salad, a pork-belly banh mi sandwich, a "shar-warma" burger with tzatziki sauce, and Vietnamese coffee. "One of my favorite things on the menu is the banh mi taco," Short says. "It's Mexican fusion with Vietnamese. I've never met a climber yet who doesn't like a taco of some kind." Short took over the café last summer when Williams left to work as a corporate chef, but he faithfully follows Williams' recipes and even adds new specials on a regular basis.
From the outside, InSPIRE Rock could be mistaken for a simple metal-and-brick office building, but the towering ropes obstacle course in its side yard (used for team-building workshops) gives it away. The inside is far from ordinary, with the open seating area of the café to the immediate left, a fully stocked pro shop to the right, and, just beyond the check-in desk, a vast four-story atrium filled with climbing structures studded with color-coded holds to designate various routes.
During my visit, every surface was swarming with climbers, some bouldering without ropes, some top-rope climbing with the help of a belaying partner, some rapelling downward using an auto-belay system, and others lead climbing by clipping into dangling carabiners as they made their way across impossible precipices.
Figuring I should work up a proper appetite, I signed a waiver and rented the appropriate gear. Outfitted with a harness, chalk bag, carabiner, shoes, and an ATC device for belaying, I approached the walls with a sense of excitement and a surge of adrenaline. Although you have to pass a certification test in order to top-rope and lead climb, anyone can access the bouldering areas and auto-belay systems, and I took full advantage of both. For several hours, I scaled the rock faces, clinging to irregularly shaped holds, wedging my toes into tiny crevices, and contorting myself into unusual positions to reach the top.
Finally, overcome by exhaustion and beckoned by the scent of grilled meat, I stowed my gear and headed over to the café's counter to order lunch. Short claims that "when you climb, you come away feeling 10 feet tall and bulletproof." You also come away feeling famished. Soon, I was tucking into a juicy "Hueco Tanks" burger and a heap of fries doused in Sriracha ketchup. Named for a well-known bouldering site in far West Texas, the burger was piled high with roasted green chiles and pepper jack cheese, plus all the fixings. With hands still trembling from fatigue, I washed it all down with a freshly made lemonade. All the while, I kept an eye on the painstaking progress of climbers traversing the same vertical paths I had just conquered. Watching from the safety of the ground, I savored the sense of accomplishment.
Although a rock-climbing gym might seem an odd location for an eatery, this unexpected combination works. The café draws two different crowds, appealing to climbers and diners alike, and it certainly satisfies both, whether your interest is in scaling new heights or in sampling new flavors. In my book, 5.ATE is a 10.
From the May 2017 issue