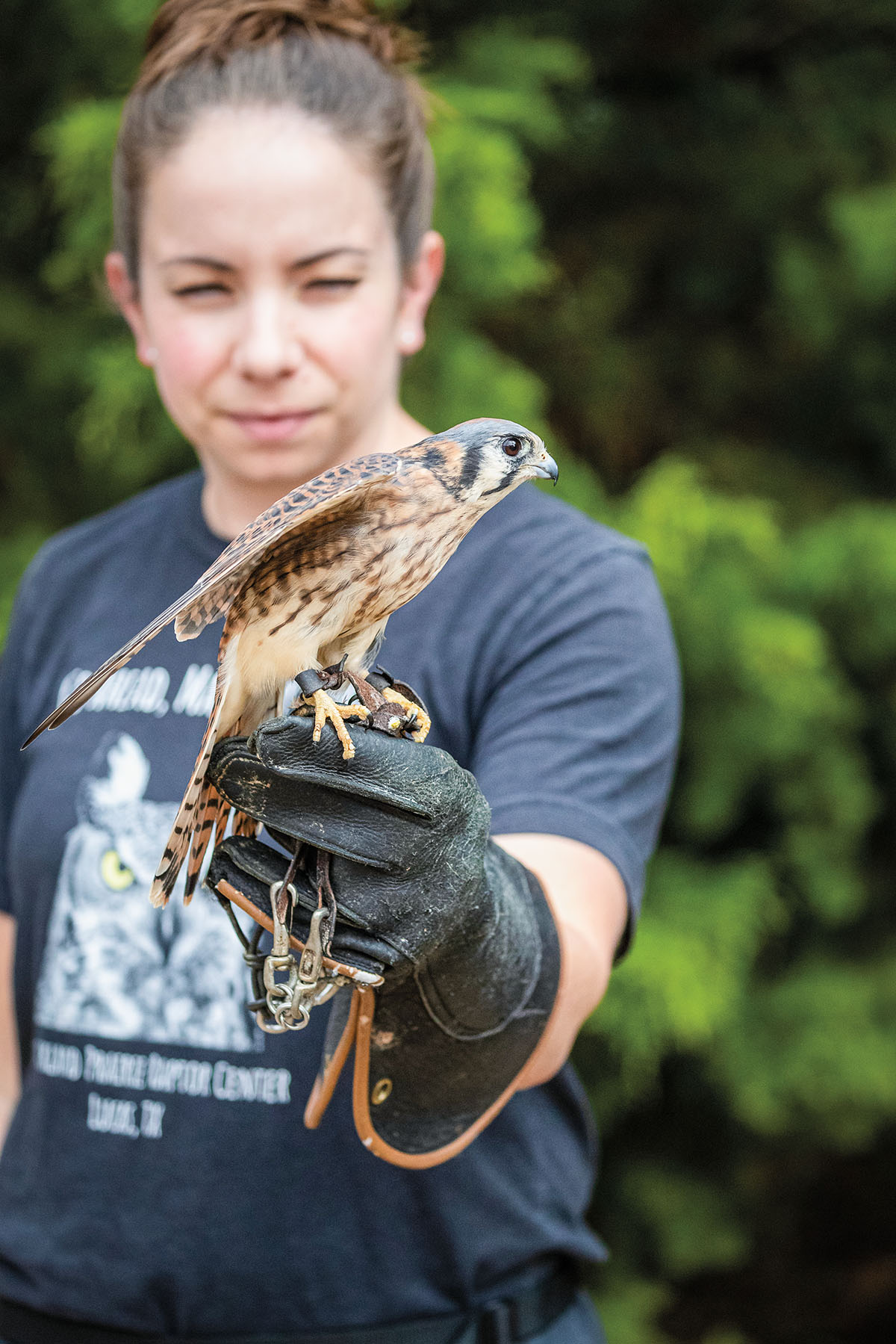 It's a typical Thursday at the Blackland Prairie Raptor Center, which means there's a Cooper's hawk being treated for severe burns, an injured falcon, and a vulture in need of X-rays. The hawk, a wild creature that would normally fight its way out of this tiny room, lies on a table, completely still. Its damaged talons are covered in thick white burn cream. A falconry hood covering its eyes lessens stress by reducing visual stimuli to keep the bird calm. It's a strange sight: a stealth hunter in a rare moment of tranquility.
"We will not turn one down," says Hailey LeBaron, the center's rehabilitation manager, after the phone rings again and a volunteer rushes out to pick up yet another injured raptor in North Texas. The Blackland Prairie Raptor Center is a small but rapidly growing operation on 66 acres at the western edge of Lavon Lake, a tributary of the Trinity River, in Lucas. The flurry of activity makes me wonder just how many birds of prey are injured each day in the state. Turns out, a lot.
I was curious about the raptor center because of the hawks I saw soaring above Brushy Creek in Hutto, where I live. Going semirural and living among the wildlife in Central Texas had me wondering about the creatures surrounding me, like the four hawks—so large I mistook them for deer—I spotted one day on our lawn. Since my visit promised a special, up-close view of red-tailed hawks, American kestrels, Eastern screech-owls, Peregrine falcons, and more, I invited my sister Amy and her 8-year-old son, Jake, to join me and my 4-year-old son, Cole. When I tell Cole, who happens to be desperately in need of a pet, we're meeting hawks and owls, he asks, "Can we bring them home?"
In 2004, a group of nine North Texas bird lovers started the Blackland Prairie Raptor Center—a nonprofit fully reliant on donations—to help the injured animals and create a place where Texans could learn about and appreciate birds of prey, vultures included. In 2005, they invited master naturalist Erich Neupert—his grandmother, Dorothy McIlroy, was considered "the First Lady of Birding" in upstate New York—to serve as executive director. (Neupert was retiring the day following my visit.) After operating as a small group with good intentions but no permanent facility, the center partnered with the U.S. Army Corps of Engineers in 2007 and moved the organization to its current location in Brockdale Park.
The center began with eight non-releasable raptors. These were birds whose injuries prevented them from surviving in the wild or who were deemed a "human imprint"—a bird that has been cared for by a human and becomes unable to hunt for itself. The center's focus is North Texas, but it takes in birds from around the state. In 2015, the center saw 86 patients. In 2018, 764 patients. On the day I visit, LeBaron tells me they have 32 patients, and they've seen 625 in the first 10 months of 2021. Three staff members work with about 50 volunteers.
LeBaron "fell in love with birds of prey" when she volunteered at a raptor rehab facility in California as a teenager. There are approximately 40 species of raptors in Texas throughout the year, and LeBaron says she's released thousands of birds during her time as a rehabber. Each time a bird successfully takes flight, she knows she's done the right thing. Still, it's her least favorite part of the job. What if the bird isn't ready?
"I get so in my head about it," she says. "I always hope I'm making the right decision and that these birds will succeed after their time with us."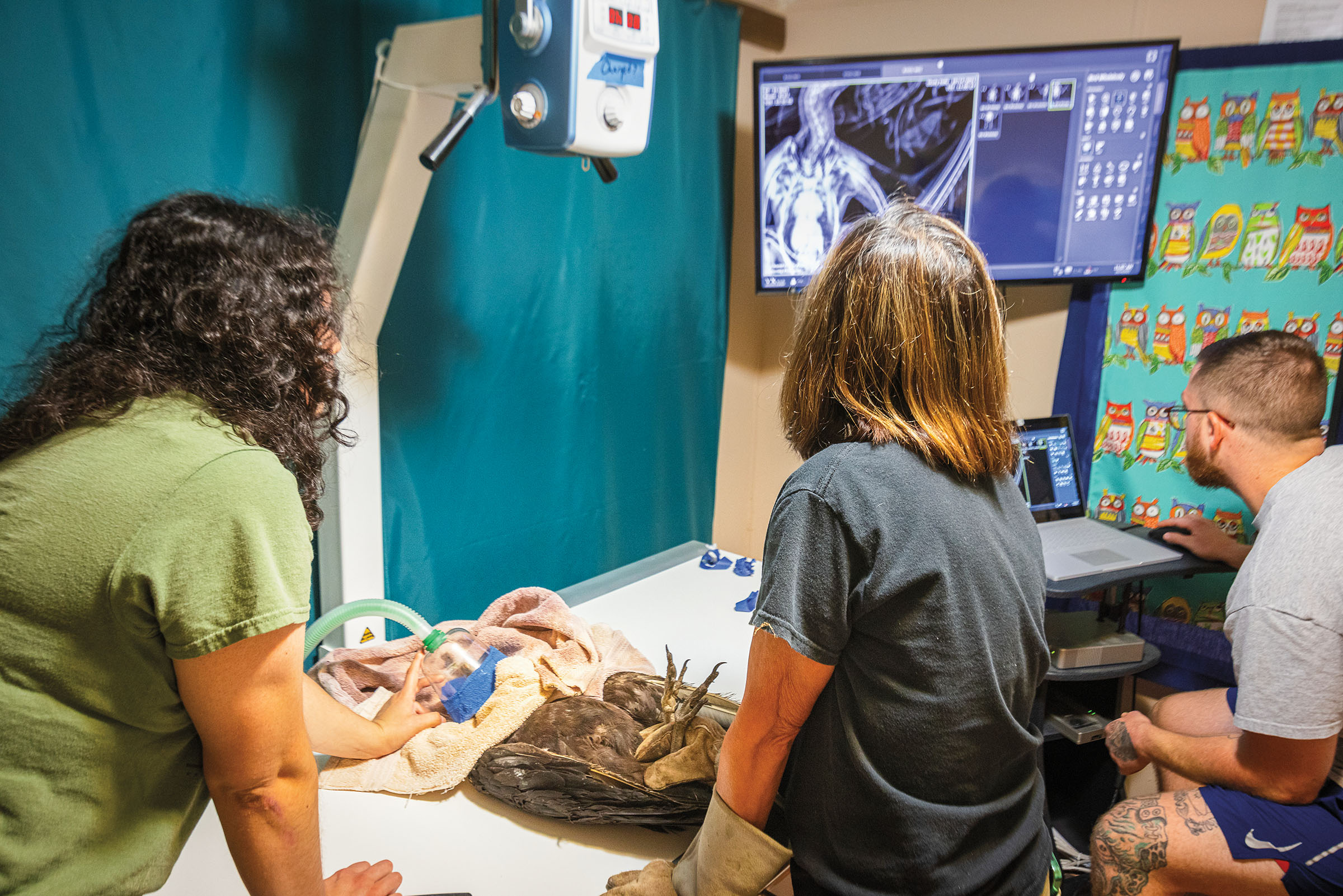 We stop in our tracks when the tour leads us to an impressive array of huge flight cages, the large ones measuring 50 feet by 20 feet by 16 feet. When we peek inside one of them and spot a barred owl, my sister nearly breaks down in tears of joy. In Amy's mind, owls are adorable. Maybe this is because she's used to seeing the cartoon owl from the Duolingo language-learning app, or Harry Potter's owl buddy, Hedwig, or one too many photos online of sweet-looking owls wrapped in blankets like a burrito. In reality, barred owls are skilled hunters who've been known to swoop down, kill their prey, and swallow it whole. Cute? Maybe not. Formidable, definitely.
Afterward, LeBaron leads us into the mouse house. The center breeds its own mice and roaches to feed to the birds. My son and nephew love the mice. "I'm bringing them home to sleep in my bed!" Cole declares. We don't visit the roaches, thank goodness.
Finally, LeBaron tells us it's time to see the "fun birds"—the 15 non-releasable birds that call the center home. These are the birds we can see up close. Elizabeth Carter, the center's education manager, spends most of her time with them. There's Cleopatra the American kestrel, a human imprint, and Sweet Pea, a darling Eastern screech-owl who was living in a rabbit cage until the family who found her realized it was illegal to keep her.
"She's a great ambassador for us," Carter says of Sweet Pea. When she explains that Sweet Pea is 18 years old, I ask how long owls like her would typically survive in the wild if they don't imprint on humans. "Six or seven years," she replies.
We step outside, and Carter and one of the longtime volunteers, Nikki Lefebvre, hold Cleopatra and Sweet Pea, respectively, on one of their arms, which is protected by a thick leather glove. When I comment how sharp their "claws" look, Lefebvre, a master naturalist, quickly chimes in. "Talons," she says. "Not claws."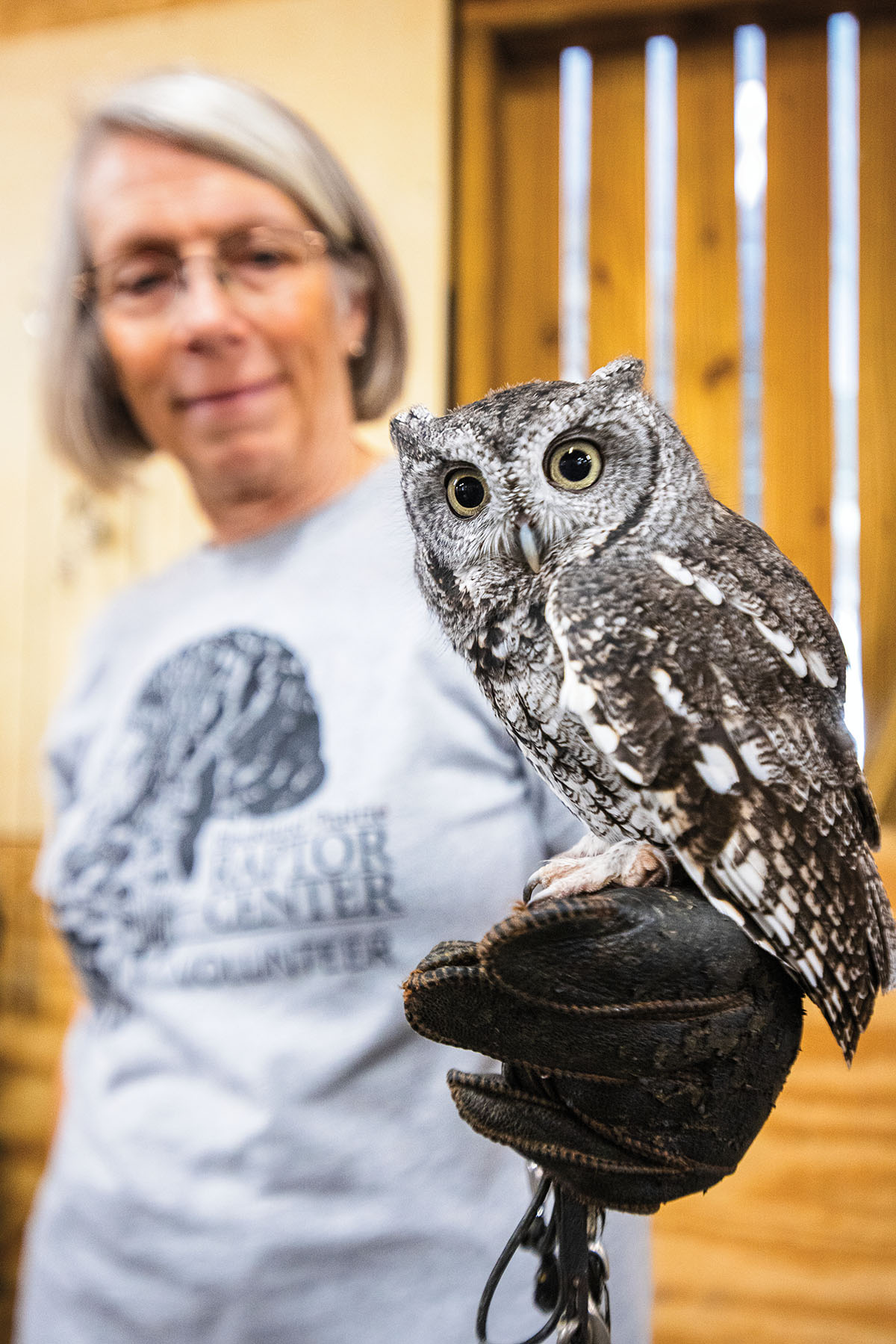 Bird's-Eye View
Blackland Prairie Raptor Center hosts events and programs year-round.
The center is open to the public the first and third Saturdays of every month. On First Saturdays, all ages can participate in a 20-minute prairie walk.
Paint a Raptor Evenings allow visitors to paint one of the ambassador birds with the coaching of local artists.
Rods 'n' Raptors Kids' Fishing Derby, a catch-and-release contest, occurs in the spring.
In October, the Owl-O-Ween event features trick-or-treating and food trucks.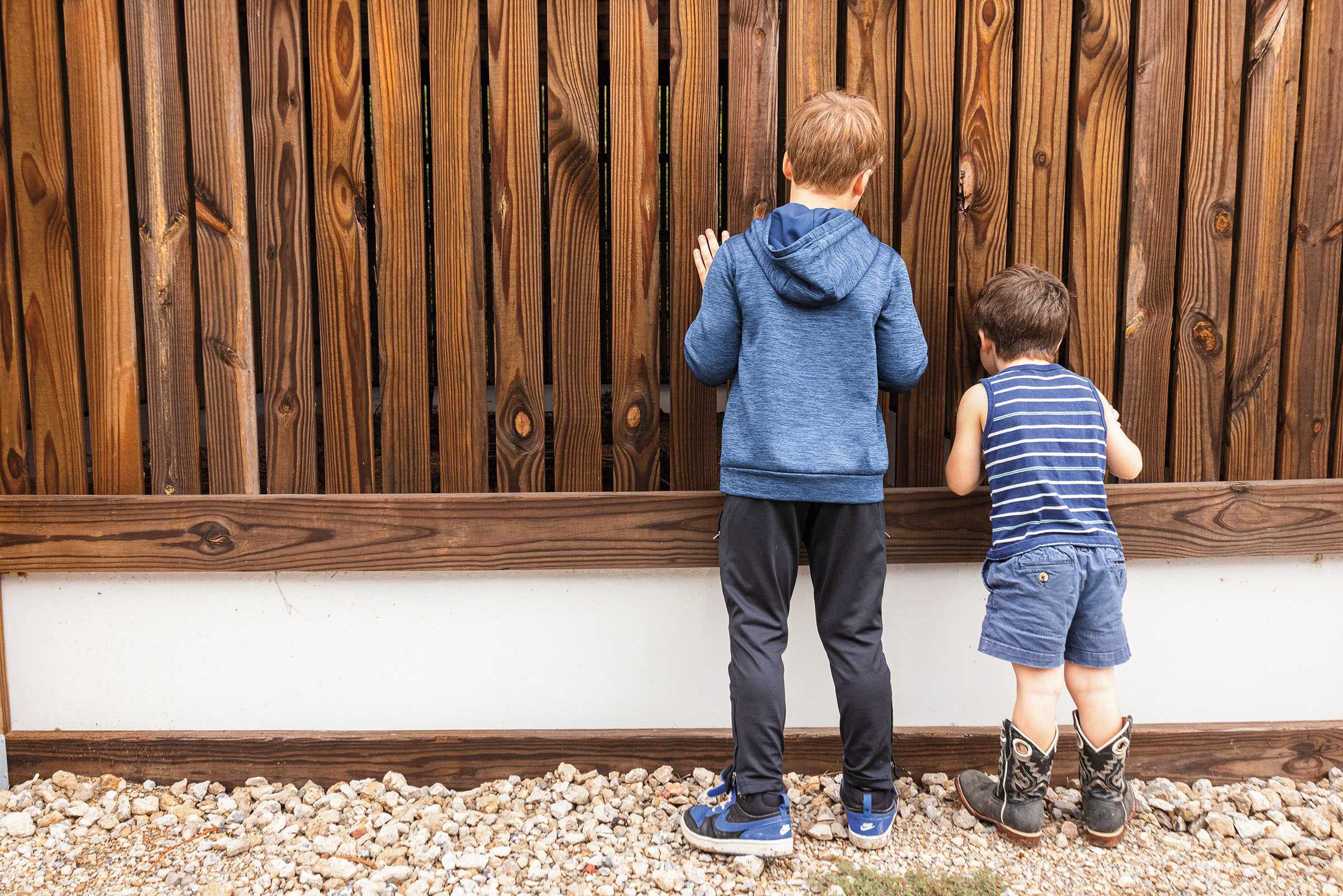 After getting to know the birds, I would never want to offend such powerful creatures. Peregrine falcons are the fastest animals in the world. Their diving speed during flight reaches over 200 miles per hour in some cases. And if you've ever seen a bald eagle talon, you would probably be careful not to insult it with the word "claw" either.
Carter tells us 90% of the injured birds they see are harmed by things humans put into the environment. The top offenders: cars, barbed wire, bullets. Or, like the poor Cooper's hawk we saw on the table with burn cream on its talons, colorless methane gas from landfills, which is another killer of birds of prey since they can't see the flames and end up flying right through the fire.
In addition to its work with raptors, the center devotes resources to restoring its environment. The surrounding blackland prairie is an endangered ecosystem of fertile, dark clay soils that used to cover 12 million acres. The Texas Parks and Wildlife Department estimates only about 5,000 acres remain in true prairie condition. The center's involvement includes controlled burns and educational outreach. "Their work serves as a demonstration of how proper land management can help bring back one of the most threatened ecosystems in North America," says Chase Brooke of Texas A&M AgriLife Extension Service in Collin County, a partner in the effort.
Blackland Prairie Raptor Center's future is bright. Its master plan includes a nature center and education facility, plus a state-of-the-art rehab facility that would be like a vet clinic but entirely devoted to raptors. It's important to make sure the public cares about all raptors and not just charming owls like Sweet Pea.
A few days after our visit, I drive back to Hutto with a newfound appreciation for the hawks soaring above the creek. I am awed by, and a little scared of, the owl who made its home in a tree by our house. I now understand it's a serious predator, and I definitely know not to call its talons "claws." Still, Cole, perhaps thinking of Sweet Pea, says, "Ah look, it's so cute."
From the February 2022 issue