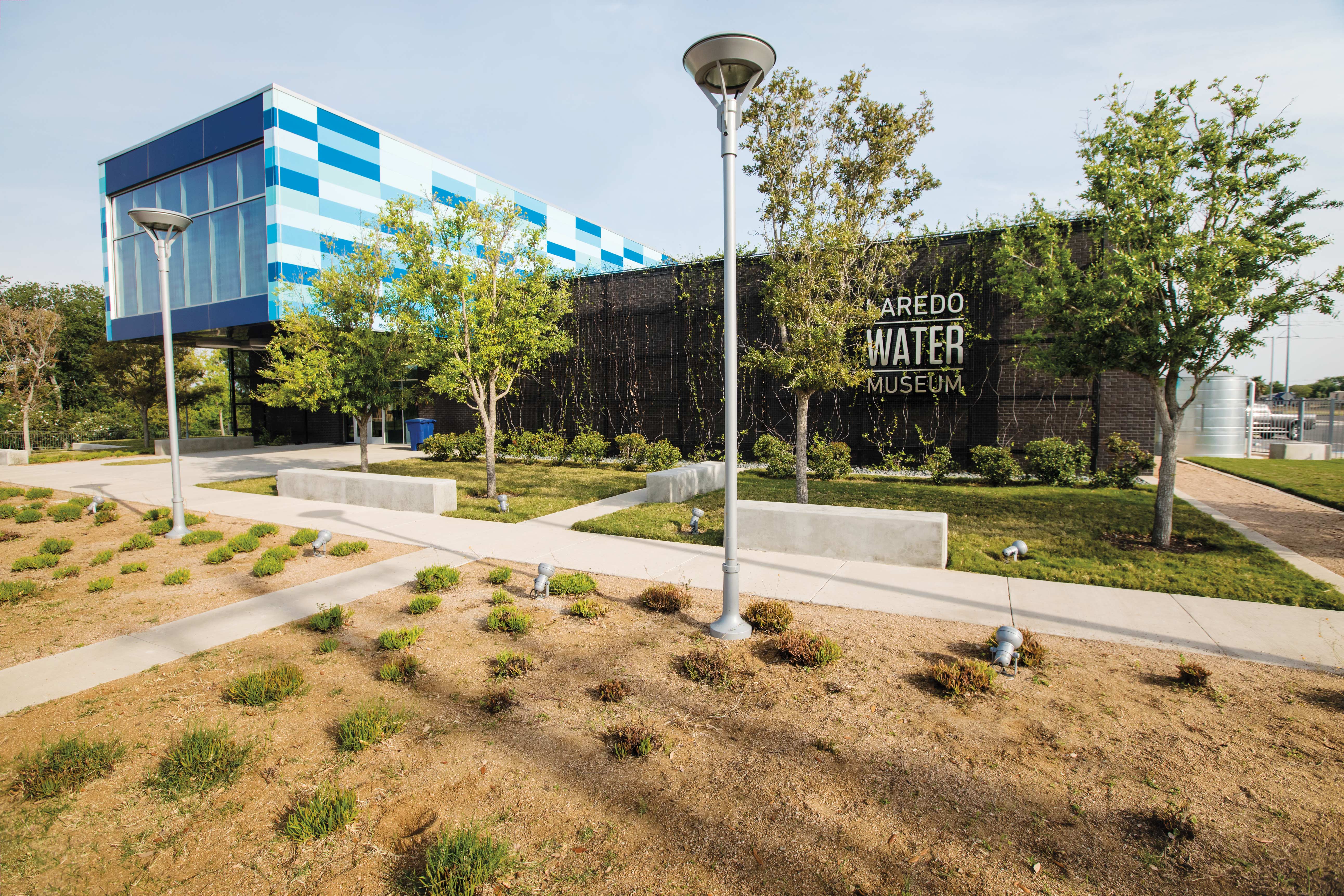 What do I look like?" my 5-year-old daughter, Ana, asked when she emerged from her bedroom dressed in blue stretch pants and a sparkly violet T-shirt. I shrugged my shoulders, and she crinkled her brow in disapproval at her father's lack of with-it-ness. "I'm a water droplet!" she proclaimed. "Now let's go to the water museum."
The Laredo Water Museum 

2702 Anna Ave., Laredo
Open Mon-Fri 10 a.m.-4 p.m.
Admission is free; tours are available by appointment.
The museum occasionally closes for large group tours.
956-795-2620 ext. 3085
cityoflaredo.com
Together with her 8-year-old brother, Byrdie, we were getting ready to check out the new Laredo Water Museum, which opened last summer. While I prepared breakfast, Ana assembled a backpack filled with notebooks, pens, and a camera. Besides being an enthusiastic traveler, Ana was on a mission: The topic of her class science fair project was the water cycle.
As we turned onto Jefferson Street, the striking façade of rectangles in seemingly every shade of blue announced the museum's presence from blocks away. This narrow road runs from Laredo's historic downtown to the banks of the Rio Grande, where the museum sits next door to the 64-year-old Jefferson Water Treatment Plant. After the statewide drought from 2010-13 hit Laredo especially hard, the city received a federal grant to modernize the treatment plant and support water conservation education. That led city officials and the water plant superintendent, in conjunction with a Houston-based design firm, to collaborate on a unique museum that features permanent exhibits on the delicate ecology of the Rio Grande watershed as well as more than 30 hands-on exhibits designed to appeal to kids.
Clever installations in the form of a shower, a washing machine, and a purple-glowing toilet offer information about water usage at home.
After stepping inside, we were greeted by María Romo, a project specialist and our guide for the day. Formerly a water conservation inspector charged with handing out warnings and citations for violations of city ordinances, Romo told us she found her work as a museum educator a more effective and enjoyable way to encourage water-wise habits. The three of us quickly agreed as we followed her along a squiggly blue line in the shape of the Rio Grande on the floor. Our first stop was a brilliant panel that mapped out the river's path as it snaked from the snow-capped headwaters in the Rockies to the Gulf of Mexico. On another panel, a few steps farther upstream, we found a beautiful timeline of the river's history. Illustrated with artifacts like a collection of 800-year-old Pueblo arrowheads, the timeline spans the formation of the Rio Grande Gorge 29 million years ago to the construction of hydroelectric dams and passage of environmental protection laws in the 20th century. 
I could have soaked in the plethora of information for longer, but the kids had already spotted the neon lights beckoning them to the interactive exhibits in the main hall. To get there we took a most unusual route: straight through the inside of a huge, 60 inch-diameter water pipe. "This is actually the size of our largest-diameter pipe in the city of Laredo," said Romo, as she showed us a sequence of lighted circular screens inside the pipe with videos dramatizing each stage of the water purification process taking place right next door. 
Emerging from the other end of the pipe, Romo invited us to explore the exhibits at our own pace. For the kids, at least, that meant fast. With Ana trailing close behind, Byrdie sprinted to an attention-grabbing exhibit with 90 gallon-size milk jugs mounted in rows on the wall. Using a touch screen, they worked together to complete a survey about our family's water usage. As they entered how many times a day we washed the dishes or flushed the toilet, we all looked up in anticipation to see how many milk jugs would light up, showing the gallons of water required for each activity. 
Another popular exhibit focuses on the scarcity of clean water in the developing world. Byrdie and Ana learned that people in many places must pump and carry water to their homes. Then, they raced to see who could pump 5 gallons the fastest into a bucket overhead. "This is a lot of work," Ana gasped 2 gallons in, gaining a new appreciation for something she had always taken for granted: water from the tap.
Many of the other exhibits focus on practical steps we could take as a family to reduce our water footprint. Clever installations in the form of a shower, a washing machine, and a purple-glowing toilet offer information about water usage at home. Another section explores the environmental impacts of pollution and waste. Byrdie and Ana were especially intrigued by a large circular floor space where images of plastic marine debris were projected. Grossed out and amazed at the same time, they took off running in circles, as though traversing a floating island of trash.
As the museum was getting ready to close, I herded my reluctant-to-leave children out of the exhibit hall. Before it was time to go, though, Romo had a surprise. She presented each of us with a blue reusable water bottle. Then, she led us to the water fountain next to the restrooms, which has doors that sport educational diagrams showing how much of our bodies are made up of water.
"This is one of my favorite parts of the whole museum," Romo said. She demonstrated that the water fountain has a special water-bottle nozzle with an electronic display that records how many disposable water bottles had been saved through its use—"980!" Byrdie cried, as he filled his bottle; "981!" Ana echoed.
We thanked Romo and headed to the car for the trip home, which I already knew would be filled with a litany of water-saving tips from my two children. "See, it's a good thing I dressed like a water droplet," Ana said as we started back down Jefferson Street.
"Why's that?" I inquired.
Reflecting on our museum journey from the Rockies all the way through a life-size water pipe and into the kitchens and bathrooms of Laredo, she didn't hesitate with her response. "Now I can tell my class that I didn't just learn about the water cycle. I actually got to be part of it."
From the June 2018 issue