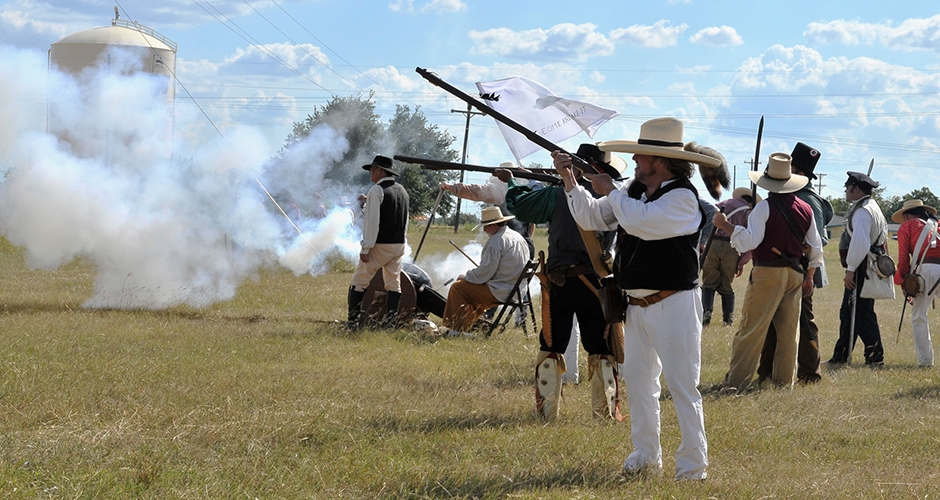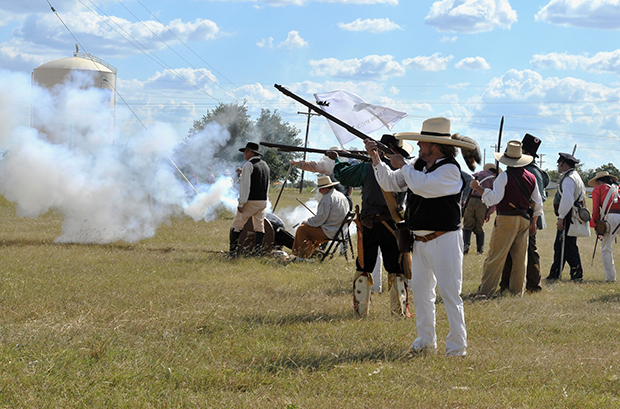 It all started in 1831 when Mexico gave the people of Gonzales a cannon to ward off Indian attacks. Four years later, with talk of independence among the Texas colonists, Mexican troops came to get the howitzer back and were greeted by a lone star flag of defiance: "Come and Take It." Today, the cannon sits in the Gonzales Memorial Museum and the taunting words of the 1835 flag is the town's banner. The cannon and the catchphrase are so omnipresent the people behind "I (heart) NY" think Gonzales maybe oughta tone it down a bit.
But the slogan is reborn with new energy every year at the Come and Take It Celebration, a three-day festival that swells with Texas pride. Held the first full weekend of October for the past 62 years, the festivities take place in downtown Gonzales this year on Oct. 5-7, in one of Gonzales' two town squares, so there's plenty of room for carnival rides, live country music, a classic car show, food and drink vendors, plus the popular flying chicken contest. (That's flying, not frying, unfortunately.) Be sure to follow signs because you don't want to confuse the snake exhibit with the petting zoo.
The 200-entry downtown parade, with its crazy floats and the newly-crowned Miss Gonzales, starts Saturday at 10:30 a.m. Later in the day, attention moves to Pioneer Village, the frontier life recreation site on the outskirts of town, for a re-enactment of the battle of Oct. 2, 1835, when the first shots of the Texas Revolution were fired.
Each night ends with country dancing in the streets, with Marty Raybon's Shenandoah headlining on Friday, and Gene Watson and Eddy Raven playing the old hits on Saturday. For conjunto dancers, Ricky Narajo y los Gamblers play earlier on Saturday.
Because this festival is downtown and not in a field or fairgrounds, there's no sense of captivity. There are tons of great restaurants and bars to explore just steps away from the funnel cakes.