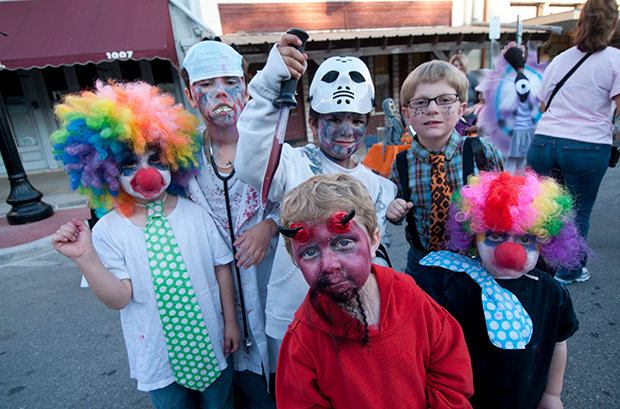 As the weather starts to cool down, it's time to get out and enjoy all autumn has to offer. We've rounded up a massive list of festive events from all over the state, including pumpkin patches, corn mazes, hay rides, and Oktoberfests.
Beachtoberfest
Port Aransas: Sept. 20-Oct. 28
Running for six consecutive weekends, Beachtoberfest activities include a 5K fun run, a music festival, craft beer tasting, a barbecue competition, the Texas Super Chef Throwdown, Old Town Festival, Port A Art About, Harvest Moon Regatta, Parrot Heads Wings Over Port A, and the 34th annual Songwriters Showcase.
Autumn at the Arboretum
Dallas: Sept. 22-Nov. 1
The Dallas Arboretum and Botanical Garden is a spectacular show of color with 4,500 of fall's favorite flower—Chrysanthemums—along with 150,000 more stunning, fall blooming plants, the internationally acclaimed Pumpkin Village, featuring more than 90,000 pumpkins, plus the outstanding Children's Adventure Garden.
SCREAMS Halloween Theme Park
Waxahachie: Sept. 28-29; Oct. 5-6, 12-13, 19-20, 26-27
This Halloween theme park hosts unlimited tours of its major attractions, scores of professional actors, activities, food and drink, and games.
Southlake Oktoberfest
Southlake: Oct. 5-7
Come take a stroll in Southlake's town square while looking at handcrafted arts and crafts. Also expect great food, live music and entertainment, and the popular wiener dog race.
Gladewater Ghost Tours
Gladewater: Oct. 5
Learn the history of some of Gladewater's historic buildings while hearing the legends behind the haunts.
Great Hill Country Pumpkin Patch
Medina: Oct. 5-8, 12-15, 19-22, 26-29
At Love Creek Orchards, enjoy unlimited hayrides, a hay bale maze and giant hay stacks, a petting zoo, and an apple orchard tour. Visit the cider mill and apple processing, purchase and paint a pumpkin, For a small fee you can, ride a pony, take a barrel train ride, face painted (weekends only), and complete a sand art project (weekends only), build a pomander, and feed the animals.
Oktoberfest
Fredericksburg: Oct. 5-7
Celebrate the fun and flavor of Fredericksburg's German heritage with three days of music, food, drink, dancing, arts and crafts, children's entertainment, and more at this 38th annual event.
Pipe Creek Pumpkin Patch
Pipe Creek: October 6-7, 13-14, 20-21, 27-28
Activities at the Pipe Creek Christmas Tree Farm will include a hayride, hay jump, scarecrow dressing, visiting farm animals, and pumpkin painting with the purchase of a pumpkin.
Oktoberfest
Muenster: Oct. 6-7
This is the sixth annual event providing a taste of Germany in North Texas. Enjoy entertainment all day, German food, dachshund races, live music, arts and crafts, a fun run, and more. The official tapping of the Oktoberfest keg will be at noon on Saturday.
Oktoberfest on the Square
La Grange: Oct. 6
Enjoy more than 100 varieties of craft beer, authentic German cuisine, and live music. Underneath the event tents, find live music along with authentic German cuisine of sausage and pork schnitzel. Children's activities will be held on the courthouse lawn.
AutumnFest
Brenham: Oct. 6-7
Kicking off with a street dance on Saturday night, the festival opens on Sunday at 10 a.m. Let the kids play games, decorate pumpkins, and take a mini-train ride while you enjoy a variety of ethnic foods and (perhaps) start a bidding war at the auction.
Uncorked Food & Wine Festival
Mount Pleasant: Oct. 6
Sample wines from Texas wineries, enjoy food from local chefs, and shop for one-of-a-kind wares made by Texas artisans. Hayrides, a pumpkin patch, and s'mores-making at the fire pit are all available for the kids.
Circle N Maze
La Vernia: Oct. 6-28
Enjoy a 5.5 acre maze, a huge pumpkin patch, picture stations, and a petting zoo with live baby animals.
Fall Harvest Event
West Columbia: Oct. 6
Celebrate the season at Varner-Hogg Plantation State Historic Site, and learn about harvest time on an 1800s plantation. Activities include hayrides, crafts, sugar cane, storytelling, and more.
Fort Concho After Dark
San Angelo: Oct. 11
Night tours of the Fort Concho National Historic Landmark offer true and possibly scary tales taken from the records.
Railhead Pumpkin Patch and Holiday Shoppe
Colorado City: Oct. 13-14
Pumpkins, sweet treats, and fall decor are available for purchase, alongside games to play, photo spots, and the Chamber Choo-Choo.
Punkin' Days
Floydada: Oct. 13
The agricultural roots of this town run deep, and Floydada is known as "Pumpkin Capital, USA." The festival features a plethora of pumpkins and pumpkin-themed fun, a variety of food, a chili and BBQ cook-off, vendors, a pumpkin pie eating contest, and more. Downtown Square, 114 W. Virginia St.. floydadachamber.com/Punkin-Days 806-983-3434
Oktoberfest
Kilgore: Oct. 13
Hosted by the City of Kilgore and Kilgore Main Street, this free event is an authentic German experience in East Texas! Historic Downtown Kilgore, 103 N. Kilgore St.. kilgoremainstreet.com 903-988-4117
Oktoberfest Celina
Celina: Oct. 13
Oktoberfest will feature live music from festive bands, a tempting assortment of traditional German foods and a beer garden boasting a bountiful selection of bubbling brews. Exciting events will follow throughout the day and evening, including a Dachshund Derby dog race and costume contests for children and adults. Youngsters can enjoy bounce houses, an obstacle course, a rock-climbing wall and a petting zoo in the free Kids' Zone. Celina Downtown Square, 142 N. Ohio St.. celinaoktoberfest.com 972-382-3300
Greenwood Fall Festival
Greenwood: Oct. 13
Greenwood Extension Education Club presents the annual fall festival. All proceeds raised from the event go back into Wise County charity organizations as well as a scholarship awarded to a Wise County 4-H member. Greenwood Annual Fall Festival, Downtown Greenwood. 940-627-7999
Jewett Fall Frolic
Jewett: Oct. 13
Rustle up some fun at the 36th Annual Jewett Fall Frolic with arts, crafts, and home-based businesses. There will be games, eating contests, inflatables, horseshoes, photography and baking contests, entertainment, and much more. Jewett Civic Center, 111 N. Robinson. jewetttexas.org 903-626-4202
Dogtoberfest
Beaumont: Oct. 13
Hosted by Beaumont Main Street, Dogtoberfest will showcase a dog parade, dog show, and contests throughout the event. Food trucks will provide the food, and drinks will be available for purchase from the Coca-Cola trailer. Julie Rogers Theatre, 765 Pearl St. beaumontcvb.com/event/detail/dogtoberfest/9188/ 409-838-2202
Oktoberfest
Beaumont: Oct. 13
With a live polka performance by The Royal Klobasneks and food available for purchase, this event is sure to be a fun time for all. You cannot forget about the beer, which will be sold at a large beer garden. Rogers Park, 1455 Dowlen Rd.. beaumontcvb.com/event/detail/oktoberfest/9189/ 409-838-3435
Octoberfest
Burnet: Oct. 13
Come out an enjoy live music along with arts and crafts vendors, kids activities, local craft breweries, 5K run, classic car show, Hill Country wineries, silent auction, face painting, Wild West gun fight, and so much more. Downtown Square, 220 S. Pierce St.. burnetoctoberfest.com 512-756-6093
Movie in the Patch
Brownsville: Oct. 19
Watch an outdoor movie shown in the pumpkin patch. Dean Porter Park, 201 E. Ringgold St.. cob.us/308/Parks-Recreation 956-542-2064
Plano Steinfest
Plano: Oct. 19-20
In the tradition of Oktoberfest, enjoy live music, an artist village, German food and beer, games, contests, commemorative steins, T-shirts, and more. McCall Plaza, 998 E. 15th St.. steinfest.org or visitplano.com/event/plano-steinfest-2018 972-468-1588
Fright Night
Palestine: Oct. 19-31
The haunted house is open to all, but children under 13 years of age must be accompanied by an adult. Bring a donation of two canned goods and receive half-price admission. All donations go to the local food bank. Located in the old garment factory, 3600 W. Oak St.. facebook.com/PalestineFrightNight/ 903-723-3014
Haunted Zoo
Victoria: Oct. 19-21
Join the Texas Zoo as it holds its annual Haunted Zoo, where the entire facility is turned into a huge walk-through haunted house. The Texas Zoo, 110 Memorial Drive.. texaszoo.org 361-573-7681
Murder, Mayhem & Misadventure Walking Tour
Austin: Oct. 20
Please join us for the 12th annual Murder, Mayhem & Misadventure Walking Tour at historic Oakwood Cemetery. The free tours cover the chilling, untimely deaths of residents of Oakwood portrayed by actors at their grave sites. The 45-minute tours highlight historical events from the 1800s and start every 15-20 minutes. Kids under adult supervision are welcome, but please leave your pets at home and wear closed-toed shoes. Oakwood Cemetery, 1601 Navasota St.. mmmtour.sachome.org 512-917-1666
Fall Foliage Festival
Canadian: Oct. 20-21
This event celebrates autumn's beauty with fall foliage touring, an arts and crafts show, car show, quilt show, and nature showcase and outdoor classroom. Canadian Chamber of Commerce and Visitors' Center, 119 N. Second St.. canadiantx.com 806-323-6234
Zombie Crawl
Wichita Falls: Oct. 20
People gather in zombie costumes and "crawl" through downtown. Downtown Wichita Falls, 714 Ohio Ave.. downtownwf.com 940-322-4525
Harvest Moon Festival of the Arts
Granbury: Oct. 20-21
This family-friendly art festival will be held on the paved area around the charming downtown square in the heart of the historic district. This is the 40th Harvest Moon event which showcases over 90 artists, makers, and craftspeople. In addition to fabulous artist gallery booths you'll find to food, local entertainment, and seasonal activities. Don't miss the the "make-it, take-it" arts area for all ages. Historic Granbury Square, 100 E. Pearl St.. granburysquare.com/harvest-moon-festival-of-the-arts/ 682-936-4550
Halloween at the Heard
McKinney: Oct. 20
Experience Collin County's premier family-friendly Halloween event. Halloween at the Heard features a safe environment to experience the joy of trick-or-treating along the eerie Dinosaurs Live, a life-size animatronic dinosaurs trail. Families will enjoy an evening full of fun activities including a presentation of a movie on the Heard's outdoor amphitheater stage, a costume contest, and more. Heard Natural Science Museum & Wildlife Sanctuary, 1 Nature Place. heardmuseum.org 972-562-5566
Family Fright Night
The Colony: Oct. 20-21
The most popular event of the year is also the spookiest. Bring the family and camp out for a night of fun. Activities include a haunted trail, tent trick or treating, costume and scream contests, scary movie screening, hayride, campfire stories, s'mores, and great food. Stewart Creek Park, 3700 Sparks Road. thecolonytx.gov/835/Family-Fright-Night 972-625-1106
Spindletop Spookfest
Beaumont: Oct. 25
Celebrate Halloween with us playing games and getting candy as you walk through Gladys City! Spindletop Gladys City Boomtown Museum, 5550 Jimmy Simmons Blvd. spindletop.org 409-880-1750
Symphonic Spooktacular
Victoria: Oct. 25
Bring the kids for a fun night of music, costumes, and more, presented by the Victoria Symphony. Victoria Fine Arts Center, 1002 E. Sam Houston Drive.. victoriasymphony.com 361-576-4500
Harvest Fun Fest
Clute: Oct. 25
Enjoy games, candy, and costume contests. Clute Municipal Park, 100 Parkview Drive.. ci.clute.tx.us 979-265-8392
Farmer Fred's Harvest Fall Carnival
San Marcos: Oct. 25
Free admission, carnival games, and a children's costume contest. Concessions and other attractions will be available. Plaza Park, 206 N. CM Allen Pkwy.. facebook.com/smtxCS 512-393-8400
Boo on Ballard
Wylie: Oct. 25
Kids invited to dress in costume and head for historic downtown Wylie to trick-or-treat with local merchants in a safe, controlled environment. There will be fun events in the park next to downtown. Historic Downtown Wylie, 112 S. Ballard Avenue. wylietexas.gov/living/events/boo_on_ballard.php
Fall Farm Feast
Lufkin: Oct. 25
A wonderful farm-to-table event featuring a five-course meal in an outdoor setting. Angelina County Farmer's Market, 2107 S. Medford Drive. visitlufkin.com 936-633-0359
Halloween Nights
Dallas: Oct. 25-28
The most family-friendly, spooky place for little ghouls and goblins this month is the Dallas Zoo, where the gates will creak open after-hours for Halloween Nights Presented by Texas Instruments. Dress your children in Halloween costumes, trick-or-treat in the wildest setting in Dallas, and catch special events and activities throughout the Zoo! Dallas Zoo, 651 S. R.L. Thornton Frwy. dallaszoo.coms/halloweennights 469-554-7500
Halloween Show
Dallas: Oct. 25-26
Dia de los Muertos collides with classical music in a unique semi-staged Halloween show. With musicians in costume (and hopefully some audience members as well!), this family-friendly show will keep you on the edge of your seat with music that will take you back in time, showcasing the creativity and craziness of composers past. Chocolate Secrets, 3926 Oak Lawn Ave. lumediamusicworks.com
Victoria Main Street Riverside Haunted Trail
Victoria: Oct. 26-28 and 31
Face this nighttime trek through the woods of the park, full of costumed creatures ready to give you a scare. Riverside Park, 311 Memorial Drive.. victoriamainstreet.org 361-578-0060
T3 Haunted House
Sugar Land: Oct. 26-27 
Tour the museum as never before when the temporary exhibit hall is transformed into a haunted house experience. Best for ages 8 years and older. Houston Museum of Natural Science at Sugar Land
Scarecrow Festival
Kaufman: Oct. 26-27
This annual event is two days of live entertainment. There will be games, rides for children, street entertainers, food trucks, artisans with crafts and clothing, a 5K, and a car show. The main stage will have live bands Friday night and Saturday afternoon. All this takes place around one of the few historic town squares still left in Texas. Town Square
Trail of Terror
Madisonville: Oct. 26-31
Come out and get the scare of your life at the largest Halloween event in the area. Explore the Lake Madison Park walking trail at dark as a haunted forest, and watch out for ghosts and monsters jumping out of the dark to give you a fright.
Bud Light Haunted River
San Antonio: Oct. 26
Music, costume contest, and adult beverages combine for a goulishly good time. Eerie sounds and sights haunt the River Walk while families trick or treat. This is a popular event, so come early. Arneson River Theatre and the San Antonio River Walk. thesanantonioriverwalk.com/events
Ennis Autumn Daze
Ennis: Oct. 27
Join us in historic downtown Ennis at Ennis Autumn Daze for fall family fun. Food, shopping, children's activities, and plenty of live entertainment. Downtown Ennis, 204 W Knox Street. visitennis.org 972-878-4748
Haunted Dallas Ghost Tour
Dallas: Oct. 27
Discover ghosts all over the Dallas area, from ghosts of old soldiers to ghosts of jilted brides. Our luxury motor coach will send shivers up your spine as we check out a number of local haunted legends known for eerie occurrences. Bring a flashlight and your bravery. Krispy Kreme, 5118 Greenville Avenue. dallasbychocolate.com 972-814-5997
Think or Treat
Longview: Oct. 27
Get some clues without any tricks. Your favorite characters will be here to greet, so wear your costume and attend Think or Treat! We will be having a Halloween scavenger hunt throughout the museum (kids will get something special upon completion), a Halloween Lego challenge, "Make a Monster" in the Invention Garage, and Tin Can BOOwling. Longview World of Wonders, 112 E. Tyler St.. longviewwow.org 903-212-4969
Scare on the Square
Huntsville: Oct. 27
Bring the family to the historic square for a fun day of pumpkin painting, carnival games, arts and crafts, free food, a costume contest, and more. Downtown Huntsville, 1203 University Ave.. huntsvillemainstreet.com 936-291-5920
Day of the Dead Festival
Denton: Oct. 27
This free event pays homage to many of fall's treasures such as cooler weather, the celebration of Dia de los Muertos, and all things Halloween. The family-friendly day is full of fun activities such as a pumpkin patch, coffin races, and a lantern-lit parade. Industrial Street District, 103 Industrial St.. dentondayofthedeadfestival.com
Halloween Family Festival
Hamlin: Oct. 27
Businesses, organizations, and families share treats and activities with children in the downtown district.
Halloween Carnival
Post: Oct. 27
Enjoy a halloween carnival with a haunted house at Old Mill Trade Days.
Historic Haunted Hayride
Uvalde: Oct. 27
Enjoy a historic haunted hayride at Fort Inge and learn about the fort's haunting legends with stories told around campfires.
Llano River Pumpkin Float
Llano: Oct. 27
Bring lawn chairs and blankets, and see pumpkins glowing, floating, and reflecting light as soon as it gets dark in Badu Park. If you would like to participate, bring your already carved pumpkins with a candle or light (please no paint or glitter to protect the river from anything unnatural).
Hallowine Fest
Mason: Oct. 27
Sandstone Cellars' annual Halloween party features local Texas vineyards, free winetasting, music, and fun.
XIT Rangers Halloween Boo Barrel Bash
Dalhart: Oct. 27-28
Dress up in your Halloween best while running barrels at the third annual event.
Tricks, Treats & T-Rex
Sugar Land: Oct 27
Bring the whole family for a spooky good time at the museum. Visit the child-friendly version of the haunted house, play a few outdoor games, or catch a chemistry show. Houston Museum of Natural Science at Sugar Land
Cemetery Tour
Victoria: Oct. 27-28
This evening tour of historic cemeteries features re-enactors in an educational and entertaining setting looking back into Victoria County's rich history.
Zoo Boo
Victoria: Oct. 27
Enjoy fun, family friendly trick-or-treating event at the Texas Zoo.
An Eerie Evening at Varner-Hogg
West Columbia: Oct. 27
Take a spooky nighttime stroll through the woods to the plantation's 1840s-era Patton Family Cemetery, and learn about mortality on the plantation during the 1800s and the dangers of the early Texas wilderness. Then, step into the plantation house for a candlelit look at the death of the site's last owner, Governor James S. Hogg, and the effect it had on his family, as well as his plantation.
Heritage Scaritage Festival
Baytown: Oct. 27
Enjoy arts and crafts vendors, food, old-fashioned children's games, wool-spinning demonstrations, music, tours of historic buildings, and a Native American teepee.
Haunted Trails
Brownsville: Oct. 27
Resaca de la Palma State Park will host spooky family-fun activities, including a zombie 1-mile fun run/walk hosted by 2 Run Crew.
Mini Monster Bash
Galveston: Oct. 27
The eighth annual festival will include trick or treat stops at local businesses throughout downtown Galveston. Saengerfest Park will be the central location for fun, with games, arts and crafts, face painting, balloon artists, and a costume contest.
Salvation Army Pumpkin Run 5/10K & Harvest Festival
Kerrville: Oct. 27
The eighth annual event includes a 5K/10K run/walk and a free kids' fun run. After the run, enjoy free food, games, a costume contest, music, awards, and more.
Halloween Spooktacular
Lake Jackson: Oct. 28
Dress up in your Halloween costume, and enjoy crafts, games, and other special programs at Sea Center Texas.
Goblins in the Gardens
Weatherford: Oct. 28
At this spook-free trick-or-treat event, Chandor Gardens is decorated for Halloween, and costumed characters hand out candy throughout the gardens to costumed children.
Family Fright Night
Kerrville: Oct. 31
An evening of safe and traditional family fun includes trick or treating, games, food vendors, bounce houses, and more at Louise Hays Park.
Trunk or Treat
Slaton: Oct. 31
Local businesses, churches, and organizations provide candy and other activities in a fun and safe environment on the town square. There will be a best-decorated "trunk" contest.
Trunk or Treat Festival-Downtown
Dalhart: Oct. 31
Bring your kids out to see trunks decorated for Halloween and filled with candy.
Main Street Fright Fest
Temple: Oct. 31
No tricks, only treats when you spend Halloween on Main Street. Vendors line the street with a variety of arts & crafts, goods, and even a food court. The evening with be filled with fun activities such as a costume contest, thriller line dance, and a bounce house.
Street N' Treat
Grand Prairie: Oct. 31
Participants will enjoy pumpkin painting, face painting, crafts, games, costume photo ops, trick-or-treating, and other activities all for free. Many Main Street businesses will open their doors for special hours and trick-or-treating.
Trick or Treat on the Square
La Grange: Oct. 31
Youngsters go door to door at businesses downtown for candy and to show off their costumes. Festivities include Halloween games, live music, face painting, snow cones, balloon animals, and bounce houses.
From the October 2018 issue