The sky's a bruised black and a north wind scatters leaves as I step inside the Kammok Gear Shop at the corner of E. 7th Street and Navasota in Austin. I'm a devoted hammock-camper, and I'm here to accessorize for the elements. 
The Kammok Gear Shop

1401 E. 7th St., Austin.
888-815-5162;
kammok.com
My Kammok Roo hammock, with its attachable insect net, makes it possible to enjoy bug-free outdoor hammock snoozing in summer, but spring's rainy months demand more protection. 
Glancing around the shop is like doing a face-plant in a rainbow: Hammocks of several sizes hang vertically against the wall in neon streams of electric orange, turquoise, gold, and purple. Against the back wall, I spot just what I need: a Koala underquilt to sling below my hammock and a Firebelly trail quilt to keep me toasty on top. 
I linger over the gumdrop-colored totes strewn across a tabletop, tempted to get one in every color. Made from scraps left over from the hammock-making process, Kammok totes can support 50 pounds and fit into a pouch that's the size of a deck of playing cards. My 2-year-old tote still looks great after myriad trips to farmers markets, beach outings, and book festivals. How did such great design happen?
Gravity was sending him a message: It was time to build a better hammock.
As Isaac Newton demonstrated, gravity can bring great revelations. In 2010, when company founder Greg McEvilly embarked on a whitewater rafting trip down the Rio Grande with his brother, he knew they'd be roughing it, hammock-camping along the way. What he didn't expect was that on the second night, his hanging straps would stretch so much that he'd end up on the ground. On a subsequent trip, when his hammock ripped and he dropped out, he realized gravity was sending him a message: It was time for him to build a better hammock.
In 2011, McEvilly—at the time, still a graduate student at the Dallas Theological Seminary—funded his hammock company with a Kickstarter campaign that garnered more than $200,000 in less than two months. Working at first out of his garage, McEvilly hired his first three employees in 2014 and soon became a member of a global network called 1 Percent for the Planet, which encourages members to contribute at least 1 percent of their company's revenues to environmental and social initiatives.
McEvilly chose an opportune time to enter the hammock market. (According to retail sales figures from the market research firm NPD Group, hammock sales doubled from 2013 to 2015.) Hammocks trail only coolers as the top-selling equipment in the outdoor market, in fact.
"From day one we have been on a mission to equip and inspire others for life-changing adventure," McEvilly says. "We are intentional to design products around our core values of adventure, community, and love. Today, Kammok is designing technical and functional gear for every outdoor adventure, and our vision is that Kammok becomes a platform to elevate camp in every way possible."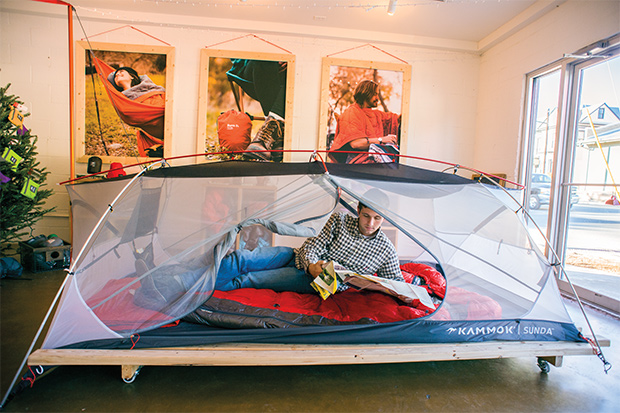 And although millennials and college-aged young adults represent the greatest number of hammock-hangers, there's no shortage of older campers such as myself, whose creaky backs no longer tolerate ground-sleeping. The new technical hammocks—made from Kammok's trademarked 70-denier diamond rip-stop nylon, like all Kammok hammocks—allow campers to sleep nearly flat, roll over, side-sleep, and even sleep on their stomachs.
Although millennials and college-aged young adults represent the greatest number of hammock hangers, there's no shortage of elder campers such as myself.
Texas state parks are among the most popular places to hang. "Anecdotally, we're seeing increased hammock use across the system," says Chris Beckcom, Texas State Parks' Planning and Geospatial Resource Manager. "We are totally supportive of our user groups, but we saw that trees were getting nicks in their cambium layers over time. So we formalized a plan in June 2017 to require 2-inch tree straps for hammock-hanging."
Kammok, which produces straps that rank among the strongest, most tree-friendly straps in the industry, was the first major company (outside of cottage-industry manufacturers) to manufacture the 2-inch straps required by the Texas Parks and Wildlife Department. 
For Kammok, doing the right thing is just how they hang. 
---
The Texas Hammock Hangers
My friend Ryan Ford, a Rockport kayak-fishing guide, suggested I join the Texas Hammock Hangers Facebook group when I first expressed an interest in hammock-camping several years ago. 
The group not only dispenses helpful tips online but also in person at its quarterly group "hangs," as well as smaller (and sometimes spontaneous) gatherings throughout the year. The 2017 Fall Hang at Fairfield Lake State Park had nearly 170 participants, who filled nearly every available campsite. The 2018 Spring Hang is tentatively planned for Goose Island State Park in Rockport, contingent on whether or not the park will be open, as it sustained severe damage during Hurricane Harvey.
"These people have a special place in my heart," says Kris Simmons, Fairfield Lake State Park office manager, when I arrive for the Fall Hang. "They are so polite and respectful."
"Plus, they're great cooks," chimes in colleague Daniel Stauffer. "We can hardly wait to get off work Saturday, as they always invite us down for the big Dutch-oven potluck supper on the final night."
After finding my campsite, I meander about with my border collie, and we soon meet up with Ryan and his wife, Jeanette, a Rockport-area nurse. "We just had to get away for a few days," says Ryan, shaking his head as if to rid it of the nightmarish scenes of Rockport after Harvey made landfall. "Places I've known all my life have just been scraped off the earth."
Soon, the soothing tranquility of Fairfield Lake has worked its magic, and Jeanette and I go visiting among the campsites while Ryan catches a well-deserved siesta. I meet the folks who have been only social media buddies until today, each willing to share a hug and his or her particular area of expertise. I enjoy getting to know blogger and native plant enthusiast Brandy McDaniel, who will lead Saturday's plant walk; Mike Mullen, the group's administrator, de-facto leader, and Dutch-oven guru extraordinaire; and enthusiastic hammock hangers of all ages and at least a half-dozen nationalities. I find new friends, including a pair of sisters in their 60s and a young couple barely in their 20s.
The group—warm, inviting, and helpful—has proven to be an invaluable resource for me as I learn the, ahem, ropes of hammock-camping. If you're interested in joining, visit the Texas Hammock Hangers Facebook group.
From the February 2018 issue